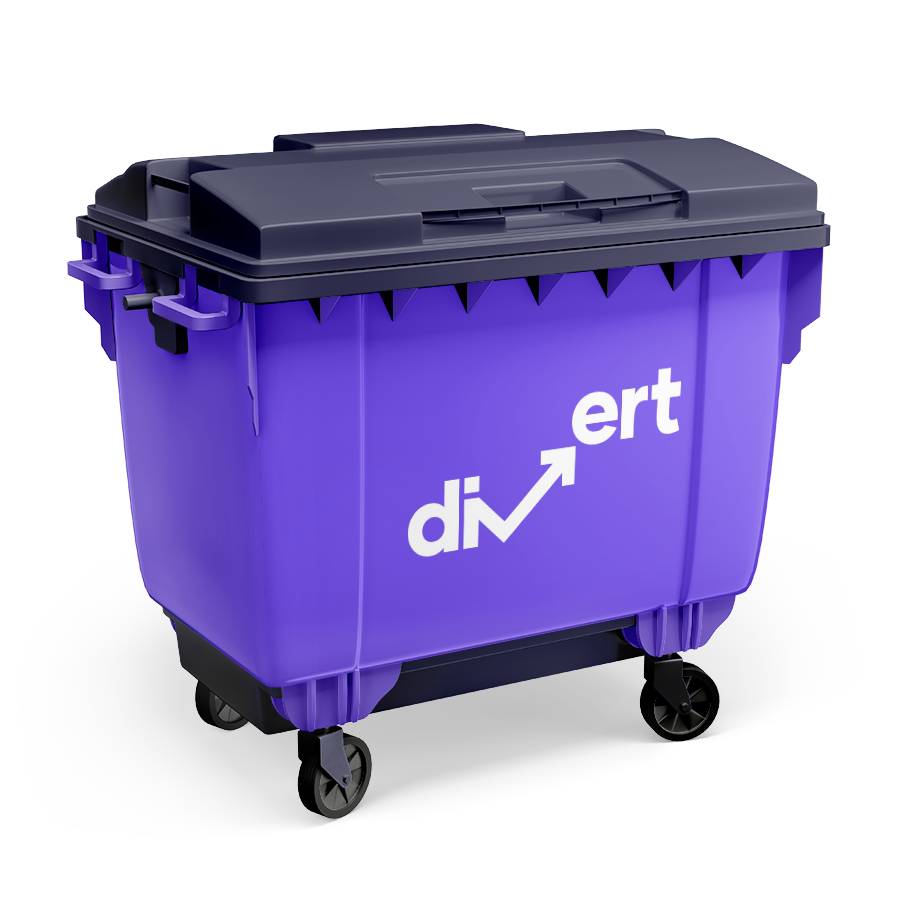 Divert believes in keeping waste out of landfill. Not only that, but we believe that keeping waste out of landfill should be as easy as possible – and that includes for businesses.
We work with businesses across the Middlesbrough area to make this happen – so how does it work? Well, we start with regular waste collections everywhere from Acklam to Teesville (so you know your business is covered by collections from our fleet of distinctive purple vans!).
Waste Collection Middlesbrough

Quick Quote
Get a quick FREE quote for your waste
Quick quote within 1 hr
All types of waste
Claim your free bins
Nationwide coverage
Waste management Middlesbrough
Our team are CRB-checked trained professionals, so they're friendly and efficient – plus we can even provide the right storage bins for you to keep your waste in check before we arrive to collect.
Then, once we've whisked it away and taken it off your hands, we do the hard work of ensuring every bit of that waste that can be recycled is diverted away from landfill.
Sounds simple? That's because it is – and it's why businesses in Middlesbrough love working with us. We make responsible, safe and environmentally friendly rubbish disposal as easy as picking up the phone.
Cardboard waste Middlesbrough
Finding yourself stuffing boxes from stock deliveries or spare packaging in the bins, only to be hit with a cardboard avalanche? Worry not, because Divert gives you a greener (and easier) solution.
We take your waste cardboard and recycle every single scrap: it's that easy. We'll help you decide the best sized bins for your business needs, provide you with the containers to keep your cardboard waste stored safely in between collections, and then whisk it off to find a new lease of life in the recycling system. Clean, sustainable cardboard disposal without the fuss – it's what Divert does best.
Business waste Middlesbrough
Middlesbrough is a pioneer in recycling, with two Government-backed recycling plants said to be set to change recycling across the world, and is a designated 'Tree City', having pledged to plant over 10,000 trees to protect the environment. A sense of responsibility for our planet runs through the town as much as the River Tees.
But how does the average business become part of that local pride in sustainability? By consciously choosing to dispose of its business waste responsibly – and that's where Divert comes in. We help you meet your environmental goals and take the hassle of business waste disposal off your hands: what more could you want?
No Hidden charges
With divert you wont find silly things added to your invoice
WEEE waste Middlesbrough
Over 17,000 businesses call the Tees Valley area home – and every single one produces some kind of electrical waste (or WEEE, waste electrical and electronic equipment). Whether it's phone systems for call centres, CCTV for business premises or – of course – employee computers, each one generates WEEE each year.
It's increasingly important, then, that businesses in the area recycle this electronic waste responsibly – much of this waste contains precious metals and key materials that can be recycled, keeping the environmental impact low and tonnes of waste out of local landfills.
Divert's team of experts can cater to WEEE waste collections of all kinds, and will ensure every part that can be re-used or recycled is taken to the appropriate location for processing. Your business gets rid of its out-of-date electronics and the environment is protected: it's a win-win.
Waste disposal Middlesbrough
At Divert we pride ourselves on working with all kinds of businesses in the Middlesbrough area. From playschools to pizza joints, offices to optometrists, we collect all kinds of rubbish with exactly the same ethos – business waste disposal should be easy, responsible, and transparent.
To make sure your rubbish goes to the right place, we work with a variety of waste and recycling centres in the Middlesbrough area. To make sure you're a satisfied customer, we provide fixed rate pricing and a regular collection schedule. That's the Divert way.
Glass collection Middlesbrough
Manufacturers, milkmen or Middlesbrough nightlife moguls – we want to recycle your glass!
Divert's no-waste approach means we work with recycling schemes in the local area to ensure every piece of glass finds a new lease of life once we've collected it. For you, this means easy, regular collections of your glass waste (even if you produce a lot – just call us to discuss large-volume collections) and a sigh of relief as you do your duty to the environment.
Save £££££
No Mess, No Stress, Pay Less
Clinical waste Middlesbrough
Some types of business waste are more complicated than others – which is why Divert is committed to ensuring that our customers who produce clinical waste get the same fuss-free service as everyone else.
If you need safe, high quality storage bins for your clinical waste – whether that's tattoo needles or dental supplies – we can provide them, making us as one-stop shop for your rubbish removal needs.
Then we'll take it away on one of our scheduled collections, with our trademark professionalism, discretion and eco-friendly approach – and we'll provide you with any relevant paperwork to show your waste has been disposed of legally and safely. No hassle, just one simple process for your business
Very quick
Caroline
Dog Groomers
Very quick to get bins set up for my dog grooming business, Paddy advised the best size bin and was a quick turnaround!
Get a quick quote
Get a quick FREE quote for your waste
Quick quote within 1 hr
All types of waste
Claim your free bins
Nationwide coverage