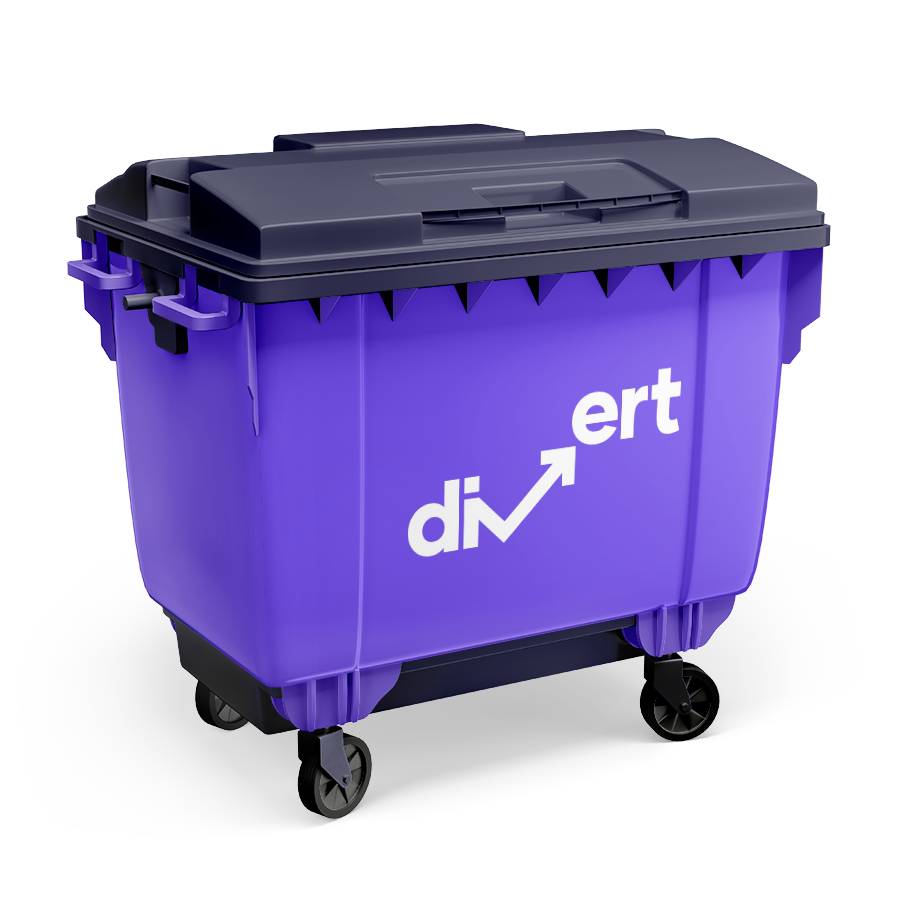 Manchester is the second-largest city in the UK (behind London) and is currently home to over 100,000 thousand businesses. These businesses contribute significantly to the large volumes of waste produced here each year – with Manchester City Council collecting 228,000 tonnes of waste in 2020 alone. Manchester also has a recycling rate of 44%, which is slightly lower than the national average but higher than neighbouring cities such as Liverpool, which has a recycling rate of just 23.6%.
At Divert, we hope to help businesses across the northwest improve their eco-friendly policies by making waste management as easy and straightforward as possible. When you use our services, we promise that your waste will never be sent to landfills and will instead find a new home at local recycling or reuse centres. Together, we can work towards a better future for our planet by making Manchester greener!
Waste Collection Manchester

Quick Quote
Get a quick FREE quote for your waste
Quick quote within 1 hr
All types of waste
Claim your free bins
Nationwide coverage
Waste Management Manchester
There are a few things we'd like you to know about us. We're passionate about the Environment, CRB-checked and prepared to do whatever it takes to turn our backs on landfill sites. When you see our signature purple vans pull up outside your business, you'll be reminded of the fact that you're playing an important role in protecting the planet for future generations. Furthemore, we'll provide you with access to a variety of free bins, depending on both the nature and volume of waste you are producing on-site – helping you save money while getting a better handle on your waste. Get in touch today to find out more about our fixed-priced solutions.
Waste disposal Manchester
With Manchester producing over 200,000 tonnes of waste each year, it's clear that every business within the city must make sustainable waste disposal a priority. After all, when adhered to, waste management policies make it easier for you to run your business and can even save you money. This is because you'll no longer have to pay landfill taxes (which are rising year by year) or waste time figuring out where you can drop off your waste. Furthermore, when working alongside Divert, we'll do the hard work on your behalf!
WEEE waste collection Manchester
From computers and mobile phones to specialist equipment such as security cameras, there's not a business in the world that does not use technology in some form. As a result, electrical goods often make up a significant percentage of the waste your company produces annually. With a global recycling rate of just 20%, it's clear that we need to start taking WEEE Waste seriously. To do this, we must find alternatives to landfill sites. For example, at Divert, we can take all of your WEEE waste (regardless of its size or bulk) off your hands and take it to the appropriate disposal facility. Once your WEEE waste is taken to these facilities, the products are disassembled and the materials recycled separately.
No Hidden charges
With divert you wont find silly things added to your invoice
Business waste Manchester
Manchester is widely considered to be one of England's biggest and most prosperous business hubs, home to over 124,000 businesses that contribute billions to the UK economy each year. While this is undoubtedly great news for budding entrepreneurs based in the North West, it also means that large volumes of business waste are produced within the city. However, this does not need to be a cause for concern. At Divert, we can provide you with a cost-effective solution to all of your company's waste disposal needs – whether you're looking to get rid of recyclables or liquid waste. Our services are offered to our clients for a fixed-price – including transport and labour.
Glass waste collection Manchester
According to a recent report, glass waste makes up a large percentage of the overall waste produced within the city. This is likely due to the fact that it is a tourist and hospitality hotspot, with over 650 bars based in the city centre alone. As you can imagine, that makes for a lot of bottles piling up outside businesses. As a result, if you run a Manchester-based business that produces glass waste, you may want to look into our glass collection services. By providing you with access to the appropriate glass waste bins, we'll make it easier for your staff to recycle. We'll then ensure that your glass waste is taken to local recycling centres instead of landfills, where experts predict that the average glass jar will take 1 million years to decompose. In short, our services give you great peace of mind, as you know that you're running a fully sustainable business.
Cardboard waste collection Manchester
Even though cardboard is one of the easiest products to recycle, many cardboard products used in Manchester often end up at landfill sites instead of recycling facilities where they can be reused or repurposed. Considering that we use around 12.5 million tonnes of cardboard each year, it's more important than ever that these products are recycled and disposed of appropriately. Thankfully, we can help by diverting your cardboard waste away from landfills, which are already overcrowded.
Save £££££
No Mess, No Stress, Pay Less
Clinical waste collection Manchester
There are currently 10 hospitals, 85 GP practices and 140 care homes based in Manchester. It's also home to numerous clinical laboratories, such as the Manchester University NHS Foundation Trust, which performs over 23 million tests each year (MFT Trust). As a result, Manchester produces large volumes of clinical waste on a daily basis, from PPE to used Sharps. As this waste type is often considered hazardous to human health and the environment, it must be disposed of appropriately. Therefore, if you run a healthcare facility in the UK, you may benefit from our Clinical Waste Services.
Our services are specially designed to make all areas of waste management a breeze. For example, we can provide you with free access to colour coordinated clinical waste bins and bags alongside the accompanying paperwork for your records. This way, not only are you doing your bit for the planet, but you're also abiding by all government regulations regarding clinical waste.
DMR – dry mixed recycling in Manchester
Although Manchester's recycling rate is only slightly below the UK average, recent studies have suggested that the amount of recycling waste rejected in the area has increased significantly in recent years. For example, a recent report found that over 2,5000 tonnes of recyclable waste were rejected over a three month period as it was contaminated by non-recyclable waste. At Divert, we hope to change these figures for the better by making recycling easier for you and your staff. For example, we can provide you with access to Dry Mixed Recycling bins suitable for non-contaminated recyclables like paper, card, and plastic. This is a great time-saver, as you can put most of your recyclables in one place without having to separate them yourself. They'll then be transported to the appropriate facilities to be recycled.
General waste collection Manchester
As mentioned previously, 228,000 tonnes of waste is produced in Manchester each year. However, some of these products are not suitable for recycling or cannot be recycled as easily as others. These waste items are referred to as 'general waste'. They must be stored separately from the rest of your waste so that they can be taken to the appropriate disposal facilities. While this may seem rather complex, at Divert, we can make disposing of your general waste as stress-free as possible – get in touch to find out more!
Very quick
Caroline
Dog Groomers
Very quick to get bins set up for my dog grooming business, Paddy advised the best size bin and was a quick turnaround!
Get a quick quote
Get a quick FREE quote for your waste
Quick quote within 1 hr
All types of waste
Claim your free bins
Nationwide coverage