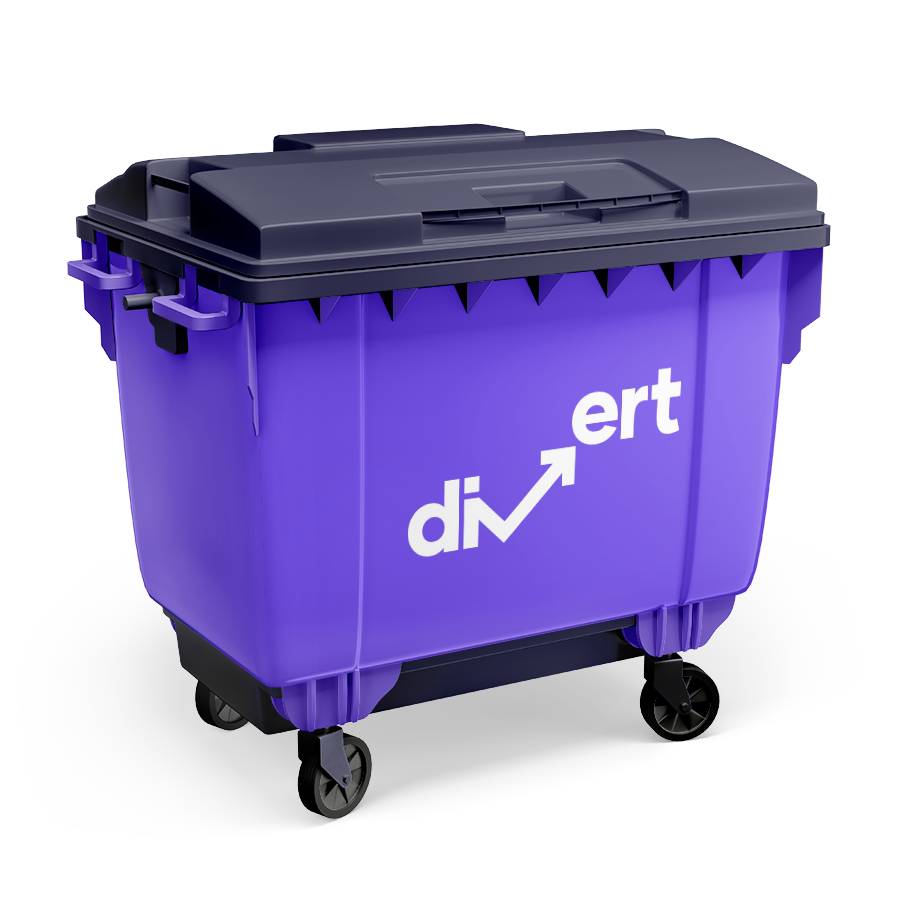 Luton businesses need reliable and high-quality waste management services. Luton's population stands at over 203,000 and nearly a third of household waste is being recycled in some way. Luton also has a number of specialist biomass, solar, wind and renewable energy firms to help with 'green' waste disposal Luton-wide.
Divert can help businesses with Luton waste management. We divert waste away from landfill so that it can be recycled. We offer a high-quality Luton waste collection service that lets businesses reach their own green energy goals and show customers that they are serious about protecting the environment.
Contact us for a free quote or to learn more about our green waste collection in Luton.
Waste Management Luton

Quick Quote
Get a quick FREE quote for your waste
Quick quote within 1 hr
All types of waste
Claim your free bins
Nationwide coverage
Business waste collection Luton
Our Luton commercial waste collection service is designed to meet your business's unique needs. We provide free bins, a locally managed service and highly trained professionals. Our team is friendly and passionate about offering the best possible service to Luton businesses.
As waste management Luton experts, our collections are flexible and affordable and we only use strong and smart bins, so that they reflect well on your premises. Our commercial waste collection Luton service ticks all the boxes: affordable, flexible, high-quality and designed to help the environment by recycling waste wherever possible.
Clinical waste in Luton
Clinical waste is a complex area for waste disposal. Non-clinical and clinical waste – including medicines, syringes and latex products – need to be separated before any items can be identified for recycling, and the rest safely disposed of. Medical waste can be toxic, so Divert offers a complete clinical waste disposal service in Luton to the town's various NHS and private medical facilities, including Luton and Dunstable University Hospital.
Our medical waste services in Luton are fully compliant with HSE regulations (including the safe disposal of sharps) and our team are highly trained to deliver this complex service, covering infectious clinical waste, offensive clinical waste, clinical sharp and anatomical waste, plus Cytotoxic/Cytostatic waste or expired medicines and their packaging.
Glass collection in Luton
Glass is used across all businesses in the form of bottles, jars, bowls and other specialist forms, and there are also specialist glaziers in Luton that make bespoke and top-quality glass for retail, industrial and commercial use. Glass is also very easy to recycle, which means that businesses can save money, reduce landfill and do their bit to save the planet.
Our Luton glass collection service removes your business glass safely and then sorts it for recycling, meaning that it goes back into the manufacturing lifecycle to make more recycled products for customers to enjoy.
No Hidden charges
With divert you wont find silly things added to your invoice
Garden waste collection in Luton
Whether you have a landscaping, gardening or outdoor business in Luton, or operate a care home, public building or other type of premises with an outdoor space, we offer flexible and affordable garden waste collection services in Luton.
Garden waste can be bulky and difficult to load, but our specialist vans and trucks make it easy. With our waste collection Luton businesses trust, our teams process garden waste for recycling, diverting it to biomass production facilities in Luton where it can provide valuable renewable heat and electricity.
General waste collection in Luton
If your business needs general waste removal in Luton, Divert can help. General waste generally can't be recycled, but our operatives assess it and dispose of it safely and in the best possible way.
Our Luton general waste removal services are affordable, flexible and delivered to the highest possible standards – so you can enjoy the benefits of a quality Luton commercial waste service.
Cardboard waste collection in Luton
Businesses of all kinds need cardboard waste removal services in Luton. Cardboard is bulky, surprisingly heavy in large quantities and it builds up fast on business premises – creating health and safety issues.
Our Luton waste disposal team removes all types of cardboard and processes it for recycling wherever possible. This allows businesses to maintain strong environmental values and to engage customers on the basis of their sustainability approach – which includes using 'green'-minded suppliers like Divert.
Save £££££
No Mess, No Stress, Pay Less
What is the recycling rate in Luton?
The recycling rate in Luton is currently about 35%.
What is the recycling target for Luton?
Luton wants to achieve the 50% national recycling target for the UK.
Can you recycle business waste in Luton?
For commercial waste Luton businesses can use Divert.
Trades and businesses must use private waste management services.
Where can I recycle in Luton?
There are two household waste recycling centres in Luton.
These are Progress Way tidy tip and Eaton Green Road Tidy Tip.
Very quick
Caroline
Dog Groomers
Very quick to get bins set up for my dog grooming business, Paddy advised the best size bin and was a quick turnaround!
Get a quick quote
Get a quick FREE quote for your waste
Quick quote within 1 hr
All types of waste
Claim your free bins
Nationwide coverage