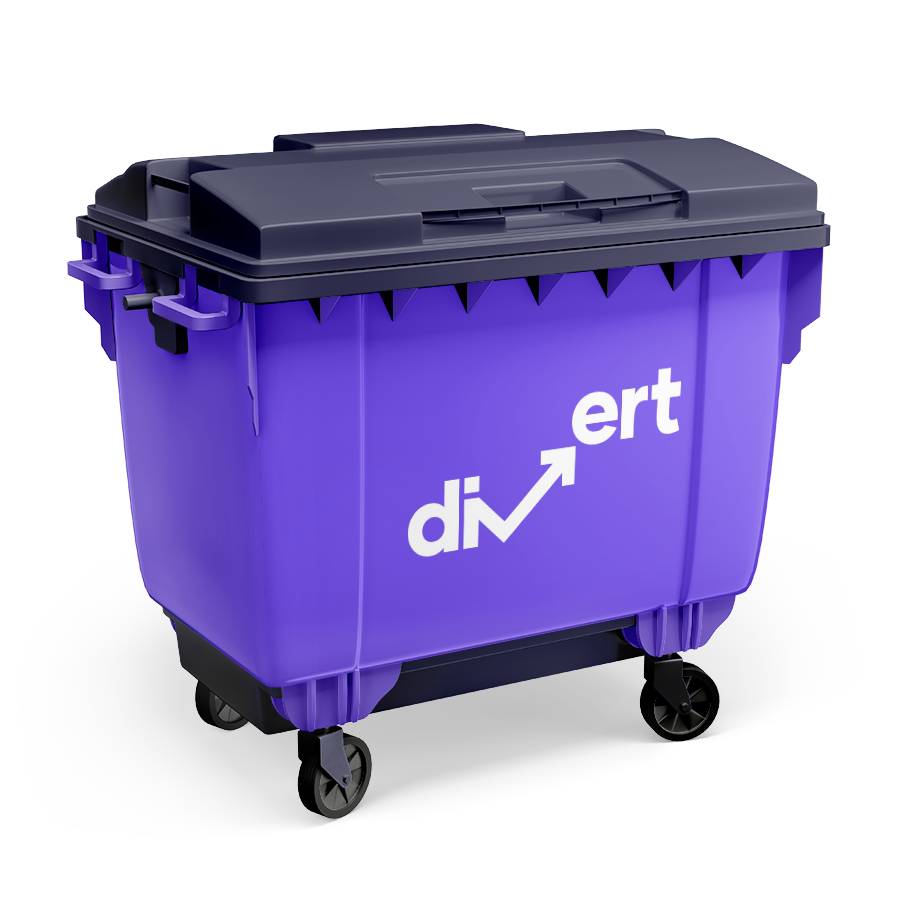 The birthplace of the Beatles, Liverpool, is one of the busiest cities in the UK, with a population of around 496,000. However, despite numerous environmental initiatives having launched over the past decade, Liverpool continues to rely on landfill sites for waste disposal. In fact, it's estimated that Liverpool-based businesses and households spend around £65 million each year on landfill taxes and recycle as little as 23.6% of their waste.
With the average recycling rate in the UK sitting at 40%, it's clear that more work needs to be done. The need for change to occur quickly is made even more apparent when you consider that the UK is running out of landfill space -with a study from the Environment Journal predicting that landfills will be overflowing by 2022. At Divert, our range of specialist waste collection services can be used to ensure that your waste is disposed of ethically and sustainably. For example, we'll ensure that your company's waste is taken to the appropriate recycling centre, as opposed to joining the 10,000 tonnes of waste sent to Liverpool-based landfills each month.
Waste Management Liverpool

Quick Quote
Get a quick FREE quote for your waste
Quick quote within 1 hr
All types of waste
Claim your free bins
Nationwide coverage
Waste Collection Liverpool
As a company owner, there are many different things that you are responsible for each day – and your business's waste disposal policy is one of them. However, putting together an effective waste management policy can be difficult, especially if your expertise lies elsewhere. However, that's where we come in! At Divert, we have decades of experience in waste management, meaning we can quickly put together a waste management plan that suits your business. We'll also ensure that you can help the planet without breaking the bank by offering our services at a highly competitive rate.
Clinical waste in Liverpool
There are currently four large hospitals, 85 GP surgeries and 114 care homes in Liverpool, alongside additional healthcare facilities such as pharmacies and clinical laboratories. Therefore, it's hardly surprising that a great deal of the waste produced in Liverpool could be classified as clinical waste. Due to the hazards associated with clinical waste, you have an ethical responsibility to ensure that it is disposed of safely and in a way that will not cause additional harm to the environment. Various government legislations dictate how this waste should be handled, such as the Controlled Waste Regulations (2012). Failure to comply with these guidelines could result in heavy fines.
As a result, it's far more cost-effective to invest in clinical waste management services – such as those offered by Divert. Our years of experience handling clinical waste products means that we know precisely how to handle these waste products. We also have all of the tools necessary to ensure that this waste will be disposed of safely and sustainably.
Waste disposal in Liverpool
Running a business comes with a great deal of responsibility – and minimising your impact on the environment is perhaps one of the most important duties you'll have to take under your wing. However, this process can be made much easier through our waste disposal services – whether you need help with specialist waste products or general waste. After all, you can put your trust into Divert – meaning that instead of spending hours looking over potential waste management strategies, you can focus on other areas of your business, and we'll do the difficult work on your behalf.
No Hidden charges
With divert you wont find silly things added to your invoice
Glass collections in Liverpool
As glass is one of the most commonly used products in the UK, large volumes of glass waste are produced each year, particularly in busy cities such as Liverpool. For example, when you consider that the Merseyside region is home to 4.36 pubs/bars per square mile (Liverpool Echo), you can only imagine the number of glass bottles that are thrown away here daily. Despite this, only 71% of glass products are recycled in the UK, even though glass is one of the few products that can be recycled infinitely.
At Divert, we hope to make recycling as easy as possible for all Liverpool-based businesses, and one way you can do this is by signing up for our glass collection services. Whether you'd like your glass waste to be collected every day or once a month – we've got you covered. This means that together, we can meet the government's aim of a 90% glass recycling rate by 2030.
WEEE waste in Liverpool
Our reliance on technology means that we produce more and more WEEE waste each year, particularly in the business sector. However, while these products can be recycled – large volumes of the mare are disposed of incorrectly, often via landfill sites. According to Circular, the UK economy loses over £370 million per year through the improper disposal of the raw materials stored in electrical goods. This includes products such as copper, steel and aluminium. In addition to the financial impact, the improper disposal of electrical waste is also causing significant harm to the planet. Therefore, if you produce large volumes of electrical waste products, you must dispose of them correctly.
At Divert, we're able to handle any of your WEEE waste on your behalf – whether you're disposing of old computers or bulky waste items such as fridges, ovens and other types of electrical kitchen equipment.
General waste collections in Liverpool
Unfortunately, some areas of waste management are more straightforward than others. For example, while many businesses produce large volumes of general waste such as plastic waste, they often believe that these products cannot be recycled and, as such, must be sent to a landfill site. However, this is often not the case. While General waste cannot be disposed of alongside the rest of your recyclables, numerous facilities throughout the UK can dispose of this on your behalf using specialist equipment and tools. As a result, setting up a general waste bin onsite is a great way to take your company's waste management to the next level.
Save £££££
No Mess, No Stress, Pay Less
DMR – Dry Mixed Recycling in Liverpool
According to a recent report from the Merseyside Recycling and Waste Authority, the recycling rate in Liverpool dropped by 0.6% during 2019/2 – despite numerous government initiatives hoping to improve these figures. As a business owner, you have a responsibility to recycle as much as possible in the daily running of your business. One way in which you can achieve this goal is by ensuring that employees have access to Dry Mixed Recycling bins and containers. This is because DMR bins make recycling easy, saving you a lot of time and effort as you no longer have to separate your waste products yourself. We'll collect this waste at a convenient time for you and ensure that it's taken to the appropriate recycling facility.
Cardboard waste in Liverpool
As mentioned previously, only 25% of the waste produced in Liverpool is recycled, meaning real change needs to be made. One way in which we can work to achieve this goal is by ensuring that all cardboard products used in the running of your company are recycled. At Divert, we can help you better handle your waste by disposing of cardboard waste by taking it to a local recycling facility. Here, cardboard products can be recycled and repurposed at least seven times instead of being thrown away. Not only will we provide you with free access to cardboard bins and containers, but we'll also arrange for the waste to be collected as frequently as you require.
Business waste in Liverpool
There are currently over 75,000 businesses registered in Liverpool, with the figures growing steadily each year. In fact, according to a recent study from InvestLiverpool, around 14,000 new companies were formed during the pandemic alone. Therefore, if you're looking to start a new business in Liverpool, you're in the right place. However, you must ensure that you have a strong waste management policy to handle all of the waste produced in the daily running of your business, from office rubbish to recyclables. Failure to do so means that your business will be harming the planet instead of helping it – which could turn away potential customers and investors. Thankfully, at Divert, we're on hand to help you with all areas of your waste management. For example, we'll provide you with free bins, ensure your waste is collected regularly and divert it from landfills towards the appropriate waste management facilities.
Very quick
Caroline
Dog Groomers
Very quick to get bins set up for my dog grooming business, Paddy advised the best size bin and was a quick turnaround!
Get a quick quote
Get a quick FREE quote for your waste
Quick quote within 1 hr
All types of waste
Claim your free bins
Nationwide coverage