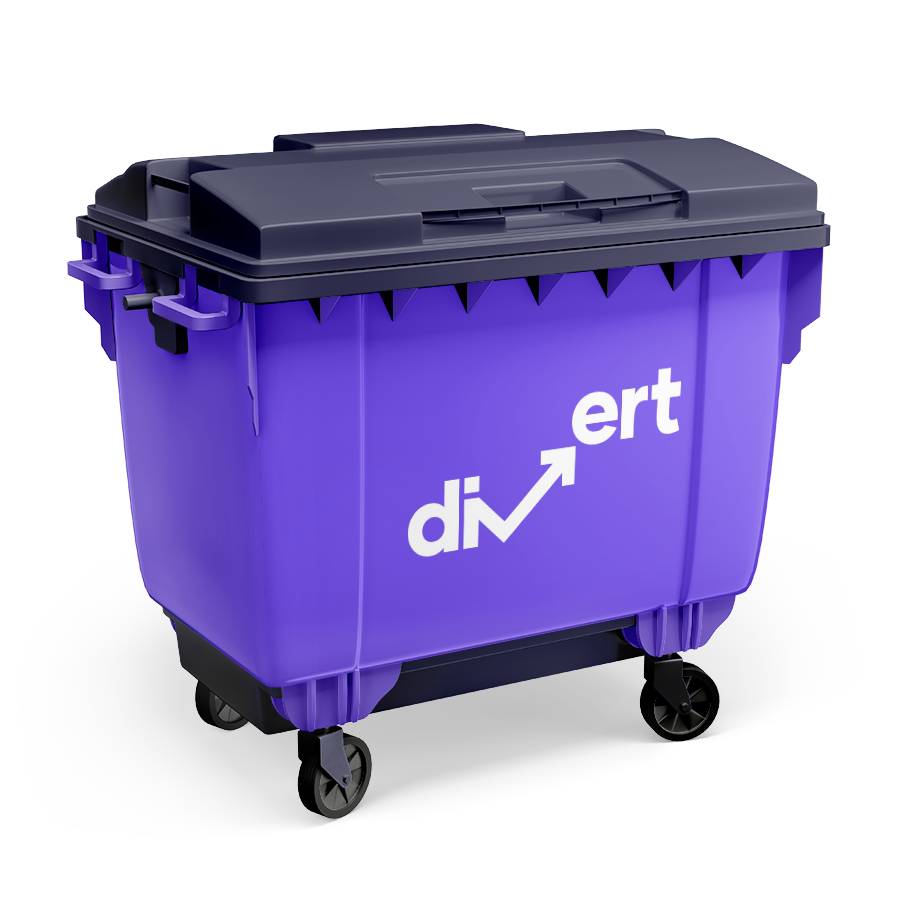 There is a huge demand for the safe storage and disposal of clinical waste in Leicester. It has 3 hospitals: Leicester General Hospital, Leicester Royal Infirmary and Glenfield Hospital. There are also 125 care homes in Leicester, all with different specialisms. There are also many beauty parlours and tattooists, and all of them will (or should) have robust procedures for the safe storage and disposal of clinical waste, as required by law.
The World Health Organisation estimates that 15% of all clinical waste is infectious, and without robust control methods and procedures, infection from clinical waste can spread quickly.
You can have peace of mind, knowing that all your clinical waste is being safely and legally dealt with if you deal with a licensed professional such as Divert. We will provide all the bins and bags you need, free of charge. You will then be able to safely store your clinical waste until we can collect it and dispose of it for you.
We will safely manage your clinical waste.
Clinical Waste Disposal Leicester

Quick Quote
Get a quick FREE quote for your waste
Quick quote within 1 hr
All types of waste
Claim your free bins
Nationwide coverage
Clinical waste collection in Leicester
We work with a wide range of businesses, and we know that every business has different requirements. We can arrange a time that suits you to collect your clinical waste.
Clinical waste comes in many different forms, and each type needs to be disposed of accurately and separately to make sure it is correctly disposed of. Contact us to receive guidance on the right type, size and colour of bags and bins you need for your waste.
You only need to pay for the collection of your waste, as we provide all the bags and bins for free. You can be free to concentrate on your business, as working with an experienced company like us means you won't have to worry about your clinical waste.
Contact us today so we can help you to easily, safely and legally dispose of your clinical waste.
Clinical waste bags in Leicester
We provide all the bags you will need to dispose of your clinical waste, including:
• Highly infectious clinical waste – yellow bag
• Clinical non-infectious waste – yellow and black bag
• Clinical infectious waste – orange bag
• Anatomical waste – red bag
• Cytotoxic and cytostatic waste – purple bag
Clinical waste management in Leicester
Any health and beauty industry is likely to produce clinical waste. Examples are care homes, hospitals beauty parlours and tattooists. This type of waste is categorised to help each waste type to be stored and disposed of correctly.
These categories are:
• Infectious clinical waste: any waste that is contaminated with blood or other bodily fluids.
• Offensive clinical waste: included here are items like incontinence pads or nappies.
• Clinical sharps waste: anything that has, or may have pierced the skin, like needles, scalpels and syringes, will need to go in here.
• Anatomical clinical waste: this is defined as any human or animal blood and tissue.
• Cytotoxic / Cytostatic waste: surplus or expired medicines, including the packaging, comes under this category, along with anything hazardous to human healt
No Hidden charges
With divert you wont find silly things added to your invoice
Clinical waste bins in Leicester
See below some examples of the bins we provide, and why they are used:
• Sharps bins in Leicester
All our sharps bins are provided for free.
The bins are provided in different colours to enable the accurate categorisation and storage of sharps clinical waste. Visit here for more information:
Dental waste in Leicester
Dentist surgeries will use a dental waste container to safely dispose of their clinical waste, such as our 'Dental Amalgam Waste White Clinical Waste Bin'.
Orange-lidded sharps bins in Leicester
These bins will be used by businesses such as beauty parlours, as they are used to store needles for piercing, but they can also be used to store stationery products and knives that can be sharp, such as drawing pins or staples.
Save £££££
No Mess, No Stress, Pay Less
Yellow-lidded sharps bins in Leicester
If you visit any tattooist or medical treatment centre in Leicester, you are likely to see a yellow-lidded sharps bin, as these are used to store anything that can pierce the skin, such as scalpels, needles and syringes.
Infectious clinical waste in Leicester
Any business in Leicester that produces waste that has been used for medical or beauty treatments will need to dispose of infectious clinical waste, such as bandages, PPE and bedding. Infectious clinical waste can be further categorised as either highly infectious (to be stored in yellow bags) or infectious (to be stored in orange bags).
We have plenty of guidance on our website about clinical waste regulations and legal requirements
Very quick
Caroline
Dog Groomers
Very quick to get bins set up for my dog grooming business, Paddy advised the best size bin and was a quick turnaround!
Get a quick quote
Get a quick FREE quote for your waste
Quick quote within 1 hr
All types of waste
Claim your free bins
Nationwide coverage