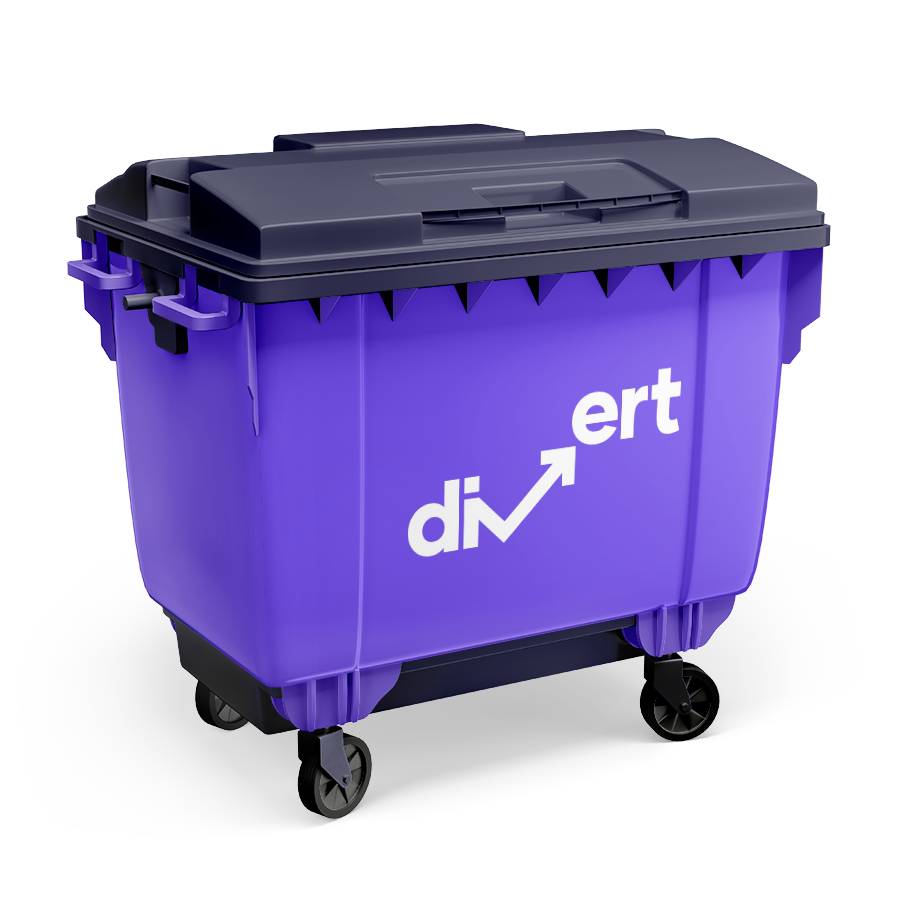 Leicester, located in the East Midlands, is known for its architecture (such as Leicester Cathedral and the ruins of Leicester castle), a booming business district and Leicester football club. With a population of approximately 357,000, around 463,000 tonnes of waste are collected from homes and businesses in the area each year. Thankfully, however, Leister is also an incredibly eco-conscious city, with a recycling rate of 55.46%, which is considerably higher than the national average.
However, with recent events such as COP26 making it clear that we must take sustainability seriously, particularly as business owners, there's still work to be done. At Divert, we hope to help companies across Leicester minimise their environmental impact by diverting their waste away from overcrowded landfill sites and towards recycling centres.
Waste Collection Leicester

Quick Quote
Get a quick FREE quote for your waste
Quick quote within 1 hr
All types of waste
Claim your free bins
Nationwide coverage
Waste management Leicester
When you work alongside Divert to handle your waste disposal, there are certain things you can expect from ups. Prompt and friendly service from a team of experts, useful guidance and advice on all areas of waste management and a promise that your waste will never end up at a landfill site. Additionally, you'll have great peace of mind knowing that you'll receive all of this for a fair price – without any hidden fees for labour or transport finding their way onto your invoice. We'll also ensure we get started on the right foot by providing you with the appropriate specialist bins, bags and containers you need for FREE.
Business waste in Leicester
Right now, there are approximately 33,000 businesses based in Leicester. A large proportion of these businesses belong to the manufacturing industries. As a result, large amounts of business waste products are produced here each year. This can involve a wide variety of waste types, from confidential waste containing sensitive data to liquid waste such as waste oils. However, regardless of how much waste you are producing, Divert is on hand to help you put together an effective waste management plan. Due to our extensive experience in waste management, we can also collect all kinds of waste from your premises, even potentially hazardous materials. Therefore, if you need help disposing of waste on your property, it might be time to arrange a visit from one of our purple vans!
Cardboard waste in Leicester
Cardboard is one of the world's most commonly used products – despite numerous efforts to reduce our overall cardboard consumption. However, due to the hike in online shopping during the pandemic, cardboard products were used (and disposed of) more than ever, as they are often used as packaging. As a result, Leicester's recycling rate dropped slightly in 2020.
At Divert, we hope to help raise these figures through our cardboard waste disposal services. We'll provide you with the bins you need to store cardboard waste on-site and collect them as frequently as necessary. These waste products will then be taken to a local recycling facility.
No Hidden charges
With divert you wont find silly things added to your invoice
DMR – dry mixed recycling in Leicester
Recycling should be the number one priority for all businesses when it comes to waste management. However, one of the biggest issues companies face when recycling is failing to properly separate products and contaminating the entire recycling bin. However, you can resolve this issue by setting up a Dry Mixed Recycling collection point. This way, your staff can use these bins to store all uncontaminated recyclables such as paper, cardboard and plastic in one place. This is also great if you don't have much space within your business but still want to do your part for the planet. These products are then collected, separated and recycled on your behalf by our team of experts.
WEEE waste in Leicester
According to a recent report from the HSE, around 2 million tonnes of WEEE waste products are thrown away in the UK each year. When these products end up at landfill sites, they take thousands of years to decompose and cause a lot of environmental damage when doing so. Therefore, if your business produces any form of WEEE waste – from specialist equipment to mobile phones – you must ensure that it is disposed of in an ethical, sustainable manner. At Divet, we can help you achieve this goal by taking WEEE waste products to the appropriate treatment centre. Here, valuable materials such as metals can be extracted and recycled, which is a far better alternative to shipping them to landfil sites. Furthemore, we're able to handle all manner of WEEE waste on your behalf, from bulky electrical items to smaller, handheld devices.
General waste collections in Leicester
It's estimated that around 75% of our waste is recyclable – but that doesn't mean we have to rely on landfills to dispose of the other 25%. Non-recyclable products (or products that are difficult to recycle) often fall under the umbrella term of general waste and are produced by businesses in Leicester and beyond every day. At Divert, we can also collect general waste from your facility and find a safe and sustainable way to dispose of these products, minimising the impact that your business ventures have on the planet.
Save £££££
No Mess, No Stress, Pay Less
Glass collections in Leicester
While the exact figures for the amount of glass waste produced in Leicester are unclear, glass is generally one of the most recycled products in the UK, with a recycling rate of around 76%. However, since glass is 100% recyclable, it's clear that more can be done to boost these figures. By separating your glass waste using glass waste bins, you're making it easier for these products to be recycled. We can then arrange for these waste products to be collected as often as you require, whether you'd like your waste to be collected on a daily, weekly or monthly basis.
Waste disposal in Leicester
If you run a business in Leicester, you might want to look into ways to improve your current waste management plan. One way in which you can achieve this goal is by working alongside Divert – as you'll no longer have to spend hours thinking about the best ways to dispose of your waste, as we'll do the hard work on your behalf. Additionally, by relying on our cost-effective services, you'll no longer have to deal with landfill taxes and fees and can rest easy knowing that your company is helping the environment as opposed to harming it.
Clinical waste in Leicester
There are currently 3 hospitals, 84 GP surgeries, 129 care homes, 20 laboratories and various healthcare centres located in Leicester. As a result, large volumes of clinical waste are produced in Leicester each year – with the figures rising significantly during the pandemic at a time when we are disposing of more PPE than ever. However, these products must be disposed of responsibly, in line with all government regulations. After all, if sent to landfill sites, products such as face masks could take upwards of 450 years to fully decompose. Additionally, clinical waste products can sometimes cause significant damage to both the environment and those who come into contact with them.
Therefore, if you run a facility that produces any form of clinical waste, we can help. Not only will we provide you with the appropriate bins and containers (such as specialist sharps bins), we'll also ensure that we complete any complicated paperwork on your behalf. We'll then take your waste to the appropriate treatment facilities, where the materials can be repurposed or recycled.
Very quick
Caroline
Dog Groomers
Very quick to get bins set up for my dog grooming business, Paddy advised the best size bin and was a quick turnaround!
Get a quick quote
Get a quick FREE quote for your waste
Quick quote within 1 hr
All types of waste
Claim your free bins
Nationwide coverage