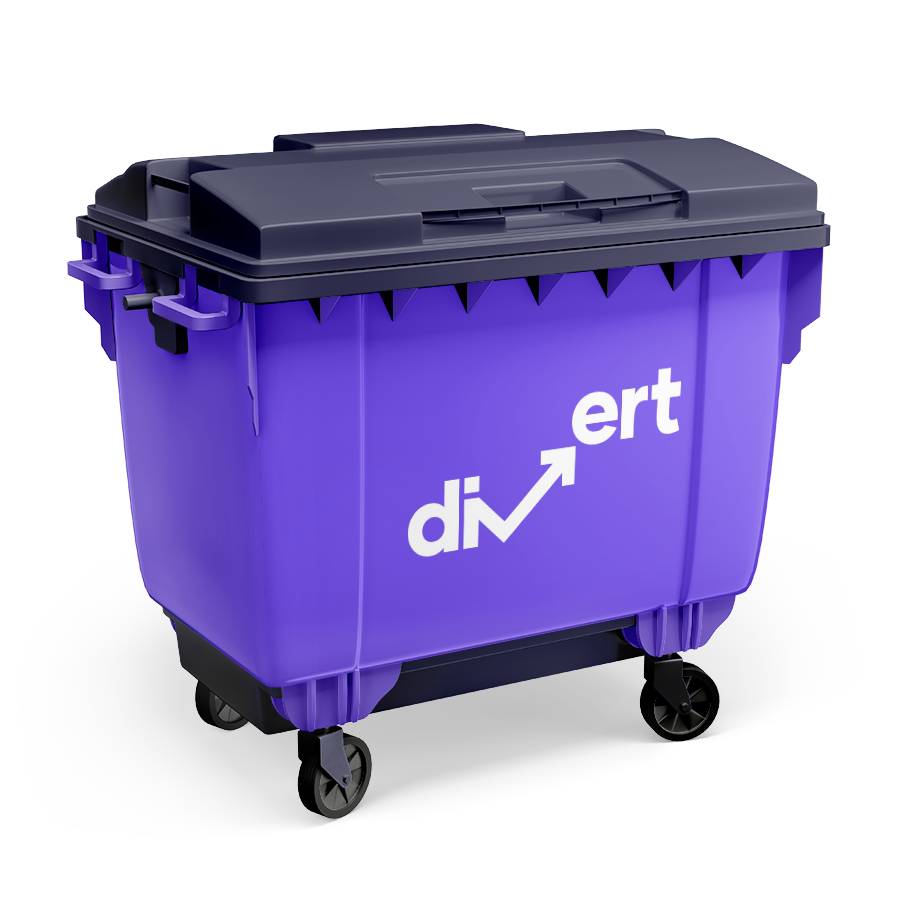 Good waste management is a vital component of running any business, not least in Barnet with its multitude of organisations serving a population of over 380,000, the largest of any London borough.
With more customers comes more waste produced, increasing the importance of responsible waste management. This can become a challenging and time-consuming problem if left to build over time.
Divert can help businesses by offering a robust Barnet waste collection service that helps with categorising waste so that more can be recycled and kept out of landfills. Get in touch today for a free quote or to learn more about waste management and collection in Barnet.
Waste Management Barnet

Quick Quote
Get a quick FREE quote for your waste
Quick quote within 1 hr
All types of waste
Claim your free bins
Nationwide coverage
Waste collection Barnet
Divert works to offer businesses simple waste management solutions in Barnet. We provide free, high-quality bins to organisations of any size so that it becomes simpler to separate waste into the correct containers.
Sustainable practices are more important than ever in such bustling, suburban locations as Barnet, so the positive environmental impact of Divert's recycling system will boost your organisation.
We know that not all businesses in Barnet work the same hours, so that's why we provide highly flexible and affordable collections to suit your schedule.
Clinical waste in Barnet
Clinical waste is categorised as waste that has the potential to spread infection. This includes, but is not limited to, sharps, dental amalgam, PPE, bandages, and body parts.
There are many organisations that produce clinical waste, such as hospitals, GP surgeries, dentists and care homes, as well as the less obvious examples like hair salons, tattoo parlours and piercing salons.
Divert offers responsible clinical waste collection and advice for the many hospitals in Barnet, including Barnet Hospital and Finchley Memorial Hospital as well as all other big and small organisations.
No Hidden charges
With divert you wont find silly things added to your invoice
Glass collection in Barnet
Glass waste refers to any glass products that have been used and need to be disposed of safely. Because of its fragile nature, it needs to be handled carefully.
With the vast number of pubs and bars that serve the people of Barnet, responsible glass collection is essential to ensuring bottles, broken drinking glasses, and food containers get to the right place. Glass is easy to recycle, making this one of the best steps your company can make towards becoming eco-friendly.
WEEE waste collection in Barnet
Waste Electrical and Electronic Equipment is generated in all businesses in Barnet, from its 112 schools to its many other public services and private businesses. Most equipment that requires plugging in or a battery to be powered is covered by the WEEE regulations, meaning that it's the business's responsibility to ensure e-waste is handled properly.
Save £££££
No Mess, No Stress, Pay Less
General waste collection in Barnet
Barnet's large population produces huge amounts of general waste and its many local companies are no different. Divert offers general waste collection on a timetable that matches the amount of waste you produce, with free bins so that it's stored securely.
Cardboard waste collection in Barnet
Barnet houses the first-ever out-of-town shopping centre to be built in the UK, meaning shopping is at its heart. These shops all produce vast amounts of cardboard waste from stock deliveries to product packaging. Divert offers convenient cardboard waste collection in Barnet that ensures this gets recycled, whether it is paperboard or corrugated cardboard.
Very quick
Caroline
Dog Groomers
Very quick to get bins set up for my dog grooming business, Paddy advised the best size bin and was a quick turnaround!
Get a quick quote
Get a quick FREE quote for your waste
Quick quote within 1 hr
All types of waste
Claim your free bins
Nationwide coverage
What is the recycling rate in Barnet?

The recycling rate of Barnet is 32%, which is average for London boroughs. Divert's services are designed to help increase this.

What is the recycling target in Barnet?

All of London's boroughs have a 50% recycling target by 2025. Barnet is far from achieving this but increased local knowledge of recycling could boost this.

Where can I recycle in Barnet?

Summers Lane recycling and reuse centre is the closest recycling facility in Barnet, where you can recycle things that general recycling doesn't collect, such as electronics, cooking oil and aerosols. Or Divert can collect many types of business waste straight from your door.

How do I get rid of food waste in Barnet?

All of the eateries in Barnet produce food waste and Divert can help them get rid of it by offering a unique waste management plan with the appropriate bins for free.

Can I recycle oil in Barnet?

Yes, you can recycle oil in Barnet either at Summers Lane or by contacting Divert and organising a waste management plan with us. This includes used cooking oil and engine oil.