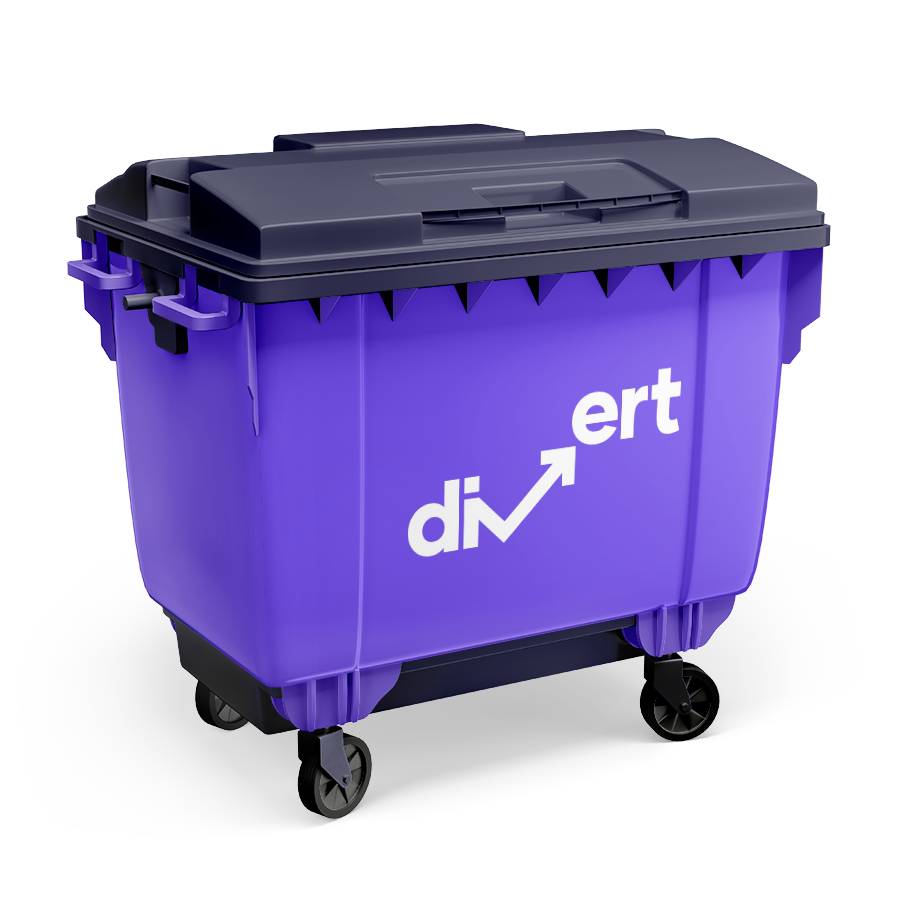 The Scottish capital, Edinburgh, is known for its long history, stunning architecture and contributions to the arts, notably the Edinburgh Fringe Festival. With a population of approximately 482,000 and a growing student body, it produces around 193,341 tonnes of waste each year. (Resource Co). This makes Edinburgh one of Scottland's biggest contributors to waste annually, second only to Glasgow. As a result, Edinburgh Council launched an initiative that aims to reach a zero-landfill target in 2025.
At Divert, we're fully behind the councils aims to divert all waste away from overcrowded landfill sites and towards recycling facilities, reuse centres or other, more sustainable disposal methods. In fact, that's our number one promise when you work with us! Whether we collect your WEEE waste or garden waste, we aim NEVER to send waste to landfill sites. This means we can work together to make Edinburgh greener!
Waste collection Edinburgh

Quick Quote
Get a quick FREE quote for your waste
Quick quote within 1 hr
All types of waste
Claim your free bins
Nationwide coverage
Waste management Edinburgh
No hidden fees
There are various costs associated with running a business – employee salaries, expenses, insurance. But at Divert, we don't believe that you should be met with a large bill for waste disposal, especially when your efforts are helping to protect the environment. That's why we offer all of our services for a fixed price – with no hidden fees for transportation and labour. We'll also provide you with the specialist bins, bags and containers you need to safely store your waste before disposal free of charge.
Business waste in Edinburgh
According to a recent report, there are currently around 50,000 businesses registered in Edinburgh, with the figure rising each month. From office blocks to gourmet restaurants, Edinburgh is the perfect place for start-ups or entrepreneurs to make their mark. However, as waste is an inevitable byproduct of any business, this also means that Edinburgh produces large volumes of business waste each year. This waste falls into various subsections – from recyclables to specialist waste types such as sanitary waste. Thankfully, at Divert, our decades of experience mean that we're able to handle any waste on your behalf – and no job is too big or small for us to handle. Regardless of the task at hand, you'll know you can rely on our cost-effective services and signature purple vans (with friendly faces behind the wheel).
No Hidden charges
With divert you wont find silly things added to your invoice
Waste disposal in Edinburgh
As mentioned previously, it's clear that a great deal of work needs to be carried out for Edinburgh to reach the government's latest waste initiatives. At Divert, we believe that we can help all Edinburgh-based businesses get a better handle on their waste, regardless of the industry they operate within. Therefore, if you run a barbershop or nightclub, don't hesitate to get in touch today to see how we can help. Not only will we collect and dispose of your waste, but we can also provide you with tips and strategies that can be used to lessen your overall production of waste, saving the planet AND your money.
WEEE waste collection Edinburgh
In a world growing increasingly dependent upon technology, it's no wonder that we produce more and more WEEE waste each year. For example, according to a recent report from Edie, the UK 'generates 23.9kg of e-waste per capita in 2019'. Despite this, as little as 20% of this waste type is recycled, which is concerning when you consider that the number of tech-based businesses in Edinburgh appears to be booming. Therefore, if you are producing any form of WEEE waste at your business, you must ensure that you dispose of it accordingly. For example, you could take it to a local collection point or donate it to a charity. However, if you regularly dispose of WEEE waste, you may benefit from our WEEE waste collection services. Not only will this give you much greater peace of mind, but you can also wave goodbye to heft landfill fees in favour of our fixed-price, sustainable solutions.
Clinical waste in Edinburgh
Edinburgh is currently home to 21 NHS hospitals, 120 GP surgeries, 82 care homes, and various healthcare centres and laboratories. As a result, it produces large volumes of clinical waste every single day, from PPE to bandages. However, as there are strict regulations governing how clinical waste should be disposed of, business owners within the healthcare industry must have a strong waste management plan in place. At Divert, we have experience handling all manner of waste, including clinical waste, on behalf of our clients. Not only will we provide you with all of the necessary paperwork for your records, but we'll also ensure that your waste is taken to the appropriate recycling and treatment centres. This is a far better alternative than shipping this waste off to landfill sites, especially when you consider the fact that over 50 million PPE masks were sent to UK landfills each day during the peak of the pandemic
Save £££££
No Mess, No Stress, Pay Less
Glass collections in Edinburgh
According to a recent report from Edinburgh News, the glass recycling rate in Edinburgh doubled in 2020. This is excellent news, especially as we continue towards meeting the government's 0 waste to landfill initiative. If you produce large volumes of glass waste at your business, you may want to consider our glass collection services. Whether you are a construction company dealing with surplus materials or a hospitality venue with a pile of empty glasses – we can arrange for your glass waste to be collected, treated and disposed of on your behalf. We'll also ensure that these products are fully recycled so that they can be used for decades to come.
Cardboard waste in Edinburgh
Scotland tends to have a much higher recycling rate than other areas of the UK, likely due to the number of environmental initiatives launched in Scotland in recent years. Despite this, a recent study has found that Edinburgh's recycling rate fell from 44.6% (2016) to 38.6% (2019/20). As a result, Edinburgh-based companies must ensure that, where possible, their waste products are recycled. One way you can achieve this goal is by making sure you know exactly how to dispose of your cardboard waste. At Divert, we can provide you with free access to cardboard waste bins, which can be used to store cardboard waste on-site before disposal. We'll then collect this waste and take it to a recycling plant, where it can be repurposed up to seven times.
DMR – dry mixed recycling in Edinburgh
As mentioned previously, it's clear that companies within Edinburgh and beyond have a responsibility to recycle more often. One way you can achieve this goal is by setting up a Dry Mixed Recycling bin on site. This makes running a sustainable business as easy as possible, as you no longer have to sort through each of your recyclables or store them separately. Once your bins are full, we'll arrange to collect them at a convenient time before taking them to a local treatment and disposal facility.
General waste collections in Edinburgh
As mentioned previously, Edinburgh produces approximately 193,000 tonnes of waste annually. While much of this can be recycled, some products require more specialist care than others or must be disposed of through alternative methods. These products are typically referred to as 'general waste', and you likely produce some form of this waste type during the daily running of your business. At Divert, we can make handling (and disposing of) this waste as straightforward as possible by providing you with free bins and containers and putting together a waste management plan.
Very quick
Caroline
Dog Groomers
Very quick to get bins set up for my dog grooming business, Paddy advised the best size bin and was a quick turnaround!
Get a quick quote
Get a quick FREE quote for your waste
Quick quote within 1 hr
All types of waste
Claim your free bins
Nationwide coverage