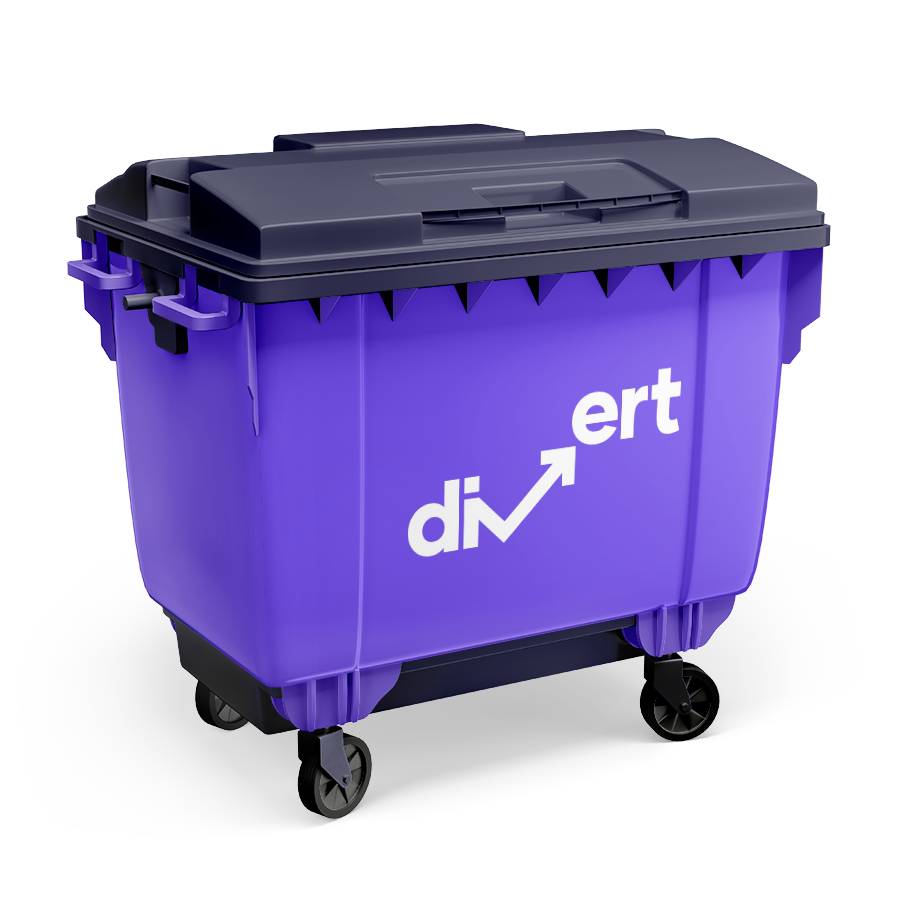 Dudley Business Waste Management
When you operate a business or trade of any kind, the right Dudley waste management service can greatly support your success. This growing market town near Birmingham has a population of around 320,600, and a recycling rate of over a third.
When it comes to eco-friendly waste management Dudley is also ambitious. The town has a number of renewable energy generation businesses that include biomass facilities to convert Dudley commercial waste into electricity through incineration. The town is also forging ahead with initiatives for sustainable architecture, 'green' dwellings, solar power and greener Dudley waste collection services.
Divert offers professional waste collection Dudley businesses trust. Our services are designed to be responsive to business needs, highly professional, flexible and responsive. Whether it's by supporting your business with a waste management plan, or delivering our 'zero landfill' policies for recyclable waste disposal Dudley-wide, we are here to help your business achieve its own sustainability goals.
Want to know more about environmentally-friendly Dudley waste disposal? Please get in touch today.
Waste Management Dudley

Quick Quote
Get a quick FREE quote for your waste
Quick quote within 1 hr
All types of waste
Claim your free bins
Nationwide coverage
Waste collection in Dudley
For commercial waste Dudley businesses can enjoy a better solution with Divert. Our services are customised around your needs, whether you deal with oil, garden waste, sanitary waste, medical waste, WEE, plastics, glass or another form of waste. We use professional staff, cutting-edge equipment and strong specialist disposal bins for a better experience.
Our services for commercial waste collection Dudley-wide are all designed to be as sustainable as possible. We do everything we can to keep waste out of landfill and we work with businesses to help them reduce, recycle and reuse wherever possible, offering expert insights and guidance along with flexible Dudley waste removal services.
Dudley dry mixed recycling collection
We're ideal if your business deals with a lot of non-contaminant waste that can potentially be recycled. With this service, your business can use our robust and generously-sized bins to safely dispose of packaging, plastic bottles, aluminium containers, tin cans, receipts, magazines and so forth. Our teams will recycle them for you, using careful and expert processes.
Sanitary waste services in Dudley
If you have an office or a premise that serves customers, then you will need a professional sanitary waste service. This type of waste can also include condoms, nappies and other 'offensive waste' products which need to be disposed of cleanly, professionally and expertly. Our team takes care of this for you, providing specialist disposal bins and services that maintain your customer and staff sanitation, health and safety.
No Hidden charges
With divert you wont find silly things added to your invoice
Dudley oil waste removal
Our professional Dudley oil waste collection service is ideal if your garage, food services, manufacturing or industrial business uses seed oils, engine oils, petroleum, kerosene or industrial oils. Again, we provide specialist disposal bins and ensure that oils are repurposed where possible or disposed of in the most environmentally-friendly way.
Save £££££
No Mess, No Stress, Pay Less
What is Dudley's current recycling rate?

Dudley currently has a domestic recycling rate of around 33%.

What recycling target is Dudley working towards?

Dudley wants to meet the UK's 50% national target for recycling.

How do businesses in Dudley manage their waste?

For business waste removal Dudley businesses can use Divert.

We offer a range of commercial waste services.

Where can I recycle in Dudley?

There are several Dudley council-run waste centres (tips) including Stourbridge.

How do I get rid of food waste in Dudley?

Domestic food waste can be placed in green bins or composted.

Businesses can use divert for food waste management services.
Very quick
Caroline
Dog Groomers
Very quick to get bins set up for my dog grooming business, Paddy advised the best size bin and was a quick turnaround!
Get a quick quote
Get a quick FREE quote for your waste
Quick quote within 1 hr
All types of waste
Claim your free bins
Nationwide coverage