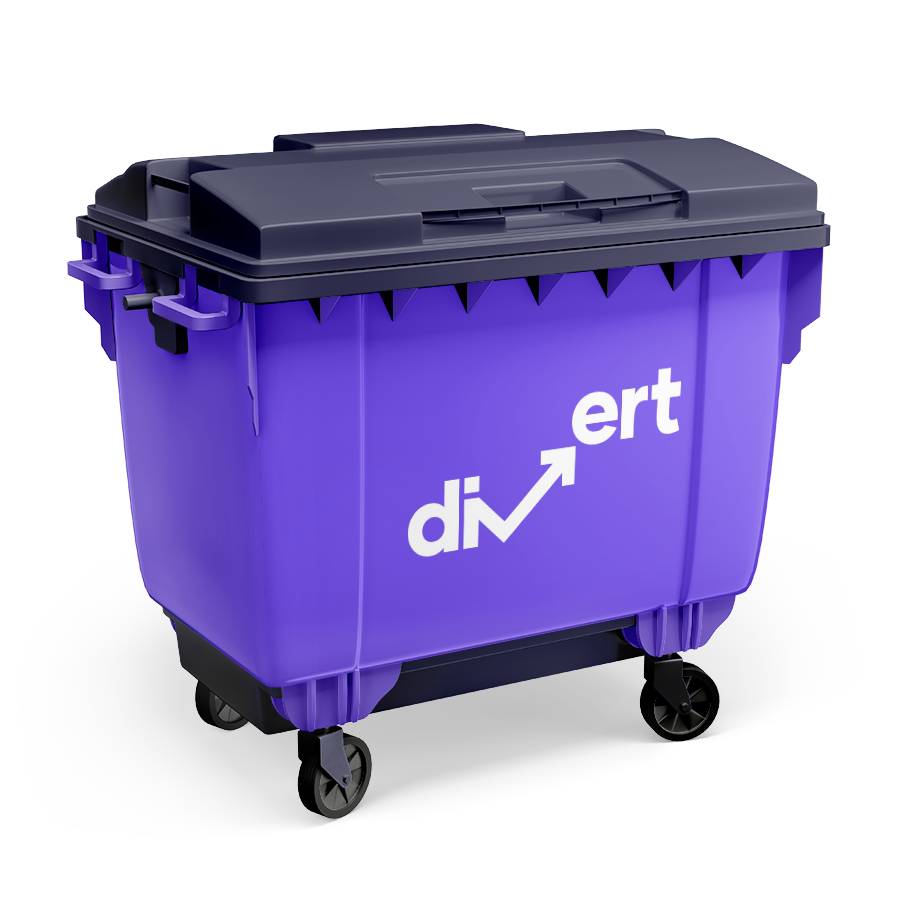 Located on the banks of the River Derwent, Derby is a city known for its gothic architecture and contribution to the engineering industry. However, with a population of 250,500 and a growing number of businesses beginning to call the city home, large volumes of waste are produced here every single day. In 2015, Derby reported a promising recycling rate of 45% – which is considerably higher than the national average of 33.4%. However, recent studies suggest that these figures have dipped significantly in recent years – meaning there's still work to be done.
At Divert, our mission is to improve recycling rates across the country by diverting waste away from landfills and towards recycling and reuse centres – and that's why we're excited to be offering our services to businesses and organisations throughout Derby and the surrounding areas!
Waste Management Derby

Quick Quote
Get a quick FREE quote for your waste
Quick quote within 1 hr
All types of waste
Claim your free bins
Nationwide coverage
Waste Collection Derby
No hidden fees
While you may be adept at putting together a strong business plan, many companies struggle to implement an effective waste management strategy. This is often because their expertise lies elsewhere – but that's where we can help. We're a highly-qualified and passionate team of CRB-checked professionals who can assist companies in all aspects of waste management. We offer our services to clients for a fixed price and will even get the ball rolling by providing you with free access to the commercial wheelie bins you need to store your waste onsite before collection.
General waste collections Derby
The Derby City waste action plan found that 58,296 tonnes of general waste were collected from businesses and households in Derby over a short time. Here, general waste refers to products that are typically difficult to recycle and cannot be stored alongside the rest of your recyclables. At Divert, our years of experience mean that we're able to sustainably dispose of any waste produced in the daily running of your business, including general waste. Furthermore, as we uphold our promise to never send any waste to landfills, we'll ensure that your waste is recycled or taken to the appropriate treatment facilites.
Get in touch today to find out more!
DMR – dry mixed recycling in Derby
Derby city council has recently introduced a waste action plan to combat the volume of waste produced in Derby. This plan included a detailed analysis of the kind of waste being disposed of in the city and found that 18,291 tonnes of dry mixed recyclables are thrown away here annually – many of them incorrectly. At Divert, we hope to help combat this issue through our dry mixed recycling services. We'll provide you with DMR bins that can be used to store all non-contained recyclables in one place, including cardboard, paper and plastic. This saves you a great deal of time and energy, as you will no longer have to segregate your recyclables into separate bins and containers!
No Hidden charges
With divert you wont find silly things added to your invoice
Cardboard waste collection Derby
According to recent studies, approximately 12.5 million tonnes of cardboard products are used each year in the UK. Therefore, it's fair to presume that a large amount of cardboard waste is produced each year in Derby, namely in the form of packaging. However, even though cardboard can be recycled, these waste products often end up at landfill sites due to poor waste disposal practices.
At Divert, we can help you sustainably dispose of your cardboard waste – by ensuring that these waste products are taken directly to recycling centres. Here these products can be recycled up to seven times.
Business waste Derby
Hundreds of small businesses are located in Derby, with the figure rising steadily each year. However, while this brings more money and jobs into the city – it also comes with more business waste. To combat this, we'll help companies of any size put together a waste management plan that reduces their environmental impact and relies on recycling centres and treatment facilites as opposed to landfills. We'll also ensure that your waste management plan aligns with your budget – as we don't' believe you should have to break the bank to do the right thing. As a result, when you select one of our fixed-price waste disposal plans, you won't be met with any extra fees.
WEEE waste disposal Derby
According to a recent report, around 4,685 tonnes of WEEE waste was sent to landfills in Derby over just a few months. This is a cause for concern when you consider that most electrical products are recyclable and can be salvaged for parts. At Divert, we hope to help our clients better handle their WEEE waste. We will collect any and all waste electrical products from their premises and take them directly to the appropriate treatment centres. Therefore, whether you're updating your computers or looking into new office tech, we're on hand to remove your old items, no matter how big or complex they may be. By relying on our purple vans instead of local landfills, you can also kiss rising landfill fees goodbye!
Save £££££
No Mess, No Stress, Pay Less
Waste disposal in Derby
Our years of experience in waste disposal means that we'll know exactly how to tackle your companies waste – whether you need us to transport oil waste to a treatment centre or paper waste to a recycling plant. Either way, we've got you covered – and together, we can work at reducing the amount of waste sent to Landfills in Derby (and beyond). Our services are not only sustainable and cost-effective, but they also save you a great deal of time as you no longer have to spend time figuring out what to do with your waste – as we'll do that for you!
Glass collection Derby
Hundreds of glass products are thrown away each day in Derby – and while glass recycling rates are quite high, many of these products end up at landfills due to poor waste disposal plans put in place by businesses. These problems are particularly evident within the hospitality industry, where glass products are used in abundance. However, regardless of which kind of business you run, our glass collection services can help you take care of the planet by ensuring all of your waste is taken to a recycling facility. In doing so, you are reducing the strain placed upon our already overcrowded landfill sites, especially when you consider the fact that even a tiny glass bottle could take one million years to decompose.
Clinical waste Derby
There are currently 5 NHS hospitals, 112 GP surgeries, 72 care homes and numerous healthcare facilities and laboratories based in Derby. This, coupled with the rising demand for PPE products across the country, means Derby produces large volumes of clinical waste every day. As a result, if your company produces any form of clinical waste – from bandages and gauze to sharps, you must ensure that they are disposed of accordingly – especially as they present a significant health hazard to those who may come into contact with them.
At Divert, we help healthcare companies deal with their clinical waste by providing them with access to the appropriate bins and containers to store waste. We'll then put together a waste collection schedule that ensures no clinical waste is left onsite longer than it needs to be. We'll also provide company owners with all necessary paperwork for your records, proving that your waste disposal methods align with government regulations and guidance.
Very quick
Caroline
Dog Groomers
Very quick to get bins set up for my dog grooming business, Paddy advised the best size bin and was a quick turnaround!
Get a quick quote
Get a quick FREE quote for your waste
Quick quote within 1 hr
All types of waste
Claim your free bins
Nationwide coverage