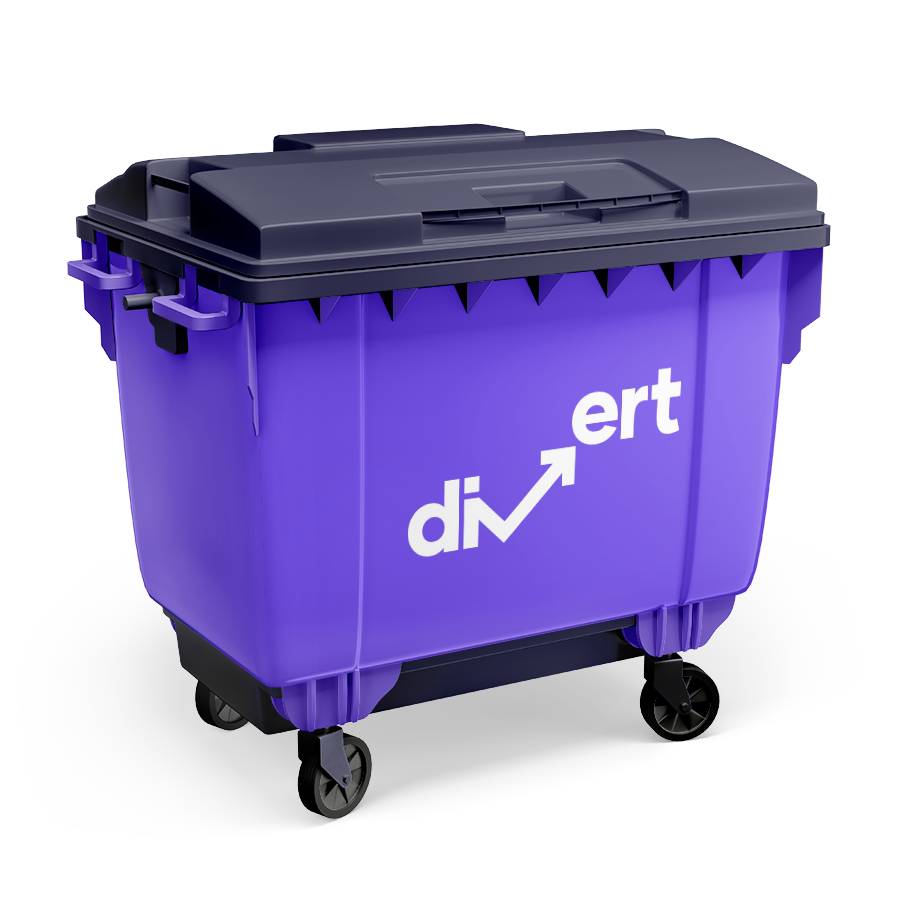 The Welsh capital, Cardiff, is one of the biggest cities in the country, with a population of over 335,000. With a thriving business district and millions of tourists stopping by each year, it should come as no surprise that Cardiff is also responsible for a great deal of waste annually. In fact, it's estimated that the average person in Cardiff produces 428kg of waste here each year (Wales Online). Despite this, Cardiff has the worst recycling rate in wales, with approximately 64% of waste recycled. While these figures are significantly higher than other areas of the UK (with London recycling as little as 34%), they are far below the Welsh Government's aim to recycle 70% of waste by 2024.
At Divert, we hope to help businesses in Cardiff and beyond ensure that their companies have a positive impact on the environment instead of harming it. To do this, we can divert your waste away from overcrowded landfil sites and towards recycling facilities or waste treatment centres.
Waste Management Cardiff

Quick Quote
Get a quick FREE quote for your waste
Quick quote within 1 hr
All types of waste
Claim your free bins
Nationwide coverage
Waste Collection Cardiff
We provide free bins
No matter what industry your business operates within, you must have a strong waste management plan in place. This should cover all areas of waste management, from reduction to storage and disposal. At Divert, we can help you put together a plan that is not only effective but sustainable too. Furthemore, we'll collect all of your waste for a fair, fixed price – which means you're saving money AND the planet simultaneously.
Clinical waste collection Cardiff
Cardiff has four major hospitals, alongside 83 care homes and numerous GP surgeries and healthcare centres. In addition to this, there are also several medical laboratories – including a prestigious immunology lab. As a result, there are plenty of companies within Cardiff that produce clinical waste products, such as PPE and used sharps. If your business produces any of this waste type, you must dispose of this correctly and in line with all government regulations.
At Divert, we can help you achieve this goal by providing you with free access to the appropriate bins, bags and storage containers such as sharps bins and cytotoxic and cytostatic purple waste bags. We'll then ensure that your waste is taken to the appropriate treatment and disposal centres instead of local landfill sites, many of which are already overflowing. We'll also provide you with all of the necessary paperwork for your records.
Glass collection in Cardiff
According to a recent report from MyRecyclingWales, over 107,220 tonnes of glass waste is produced each year within Wales – by both business and residential properties. However, many of these products are sent to landfills – despite the fact that glass can be recycled infinitely through closed-loop recycling. Therefore, if your company produces any form of glass waste, you may want to consider using our glass collection services. Together, we can ensure that all glass waste produced in your business is disposed of appropriately. As glass waste can build up quickly, especially within factories or hospitality venues, we can arrange for this waste to be collected weekly, fortnightly, or monthly.
No Hidden charges
With divert you wont find silly things added to your invoice
Waste disposal Cardiff
With approximately 1.7 billion tonnes of business waste being produced each year globally, good waste management has never been more critical. At Divert, we have years of combined industry experience and a growing passion for sustainable business practices, meaning that we're able to deal with all aspects of waste management on behalf of your Cardiff based business. Not only will our services help make your company more sustainable, but we'll save you a great deal of time by (literally) doing the dirty work on your behalf.
WEEE waste disposal in Cardiff
Approximately 6,445 tonnes of WEEE waste products are produced in Wales each year. That is hardly surprising when you consider how many different types of waste fall under the umbrella of WEEE Waste (Waste Electrical and Electronic Equipment) – from mobile phones and laptops to larger appliances such as fridges and ovens. These products can be challenging to recycle, but they contain plenty of recyclable materials, such as metals. Despite this, they are often sent to landfill sites. When disposing of this kind of waste at landfills, not only could you be causing a great deal of environmental damage, you'll also be met with heavy landfill fees.
However, as our signature purple vans have now hit the streets of Cardiff, you can rest easy knowing that we're able to collect any and all WEEE waste products from your business and take them to a local recycling centre.
Business waste Cardiff
There are currently 29,130 businesses based in Cardiff – meaning that the city is home to more companies and startups than any other place in Wales. From offices to nightclubs, Cardiff is proving itself to be a centre of innovation and opportunity. However, this also means that a great deal of business waste is produced here each year, from paper to more specialist products.
At Divert, we're always on hand to help facilitate the safe and sustainable disposal of all forms of business waste. No matter which services you choose, we'll collect your business waste for a fixed price, including transport and labour, meaning you won't find any surprise fees on your invoice.
Save £££££
No Mess, No Stress, Pay Less
Cardboard waste collection Cardiff
Despite the welsh government launching numerous initiatives to recycle more often, the number of recycling facilities in Cardiff has recently been cut in half (going from four to two). As a result, many companies may be finding it harder to dispose of recyclables such as cardboard. However, that's where we come in. At Divert, we can provide you with free cardboard waste bins and collect them as often as you see fit. Once collected, your cardboard waste will be taken directly to a recycling facility where it can be repurposed and turned into something new.
General waste collection in Cardiff
Sometimes companies produce waste that cannot easily be recycled (if at all). This is often called 'general waste' and refers to the kind of waste you'd usually put in your black bin. At Divert, we can make disposing of all types of waste as easy and stress-free as possible, including general waste products. Get in touch today to find out more!
DMR – dry mixed recycling in Cardiff
If you're looking to improve your company's recycling rates in an efficient manner – then you might want to set up a Dry Mixed Recycling Bin on site. These bins are suitable for a wide variety of recyclable products, such cardboard, paper, plastic and metal, so long as they have not been contaminated. As a result, they are a highly efficient way to recycle as you no longer have to segregate each waste type into separate bins. They're also great if you have limited space to store your waste.
Very quick
Caroline
Dog Groomers
Very quick to get bins set up for my dog grooming business, Paddy advised the best size bin and was a quick turnaround!
Get a quick quote
Get a quick FREE quote for your waste
Quick quote within 1 hr
All types of waste
Claim your free bins
Nationwide coverage