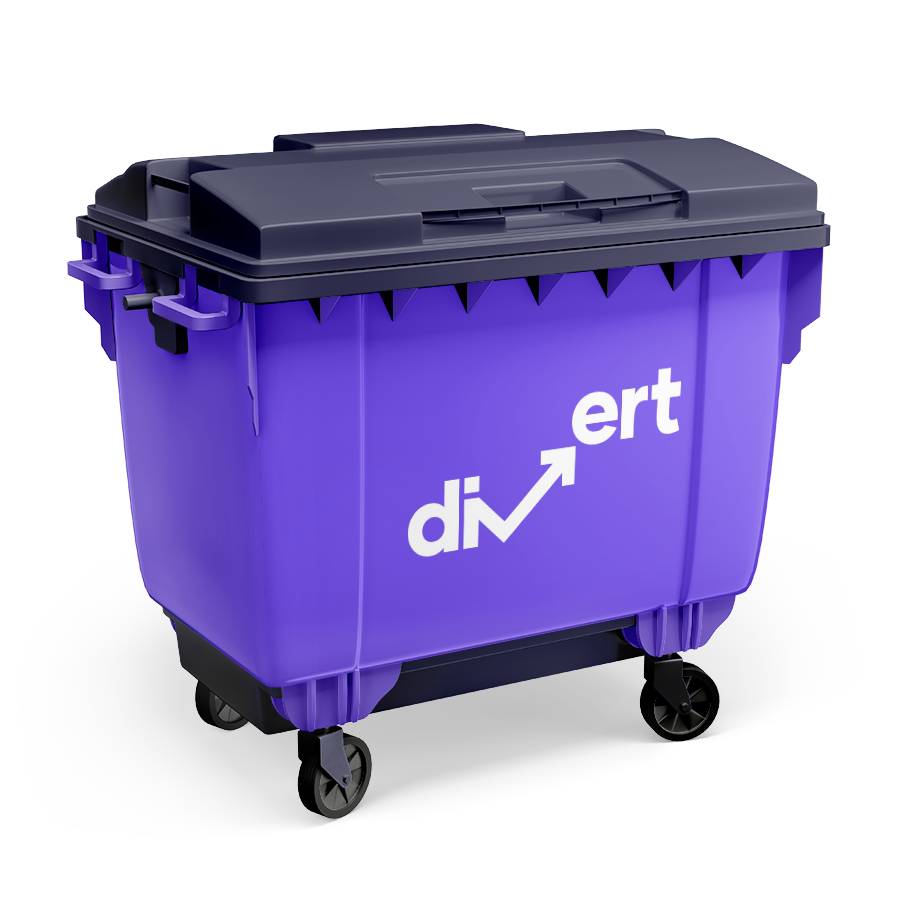 Bristol, a city with a population of around 467,000, is frequently listed as one of the best European cities to live in or visit due to its unique architecture, long history and various art galleries. As such, it's hardly surprising that around 20.5 million tourists visit Bristol each year. Even though it is also one of the UK's biggest business hubs, it proves time and time again to be one of the most eco-friendly cities in Europe. In fact, it was named the best city for recycling in both 2019 & 2020. For example, Bristol currently has a recycling rate of around 47.7% – which is 2.3% above the national average and considerably higher than other cities of a similar size.
At Divert, we hope to help Bristol-based businesses keep up the good work by making waste management as easy and sustainable as possible. For example, we'll divert all waste away from overcrowded landfill sites, such as the Shortwood Quarry and towards local recycling centres instead.
Waste Management Bristol

Quick Quote
Get a quick FREE quote for your waste
Quick quote within 1 hr
All types of waste
Claim your free bins
Nationwide coverage
Waste Collection Bristol
One of the biggest misconceptions that business owners make when it comes to waste disposal is believing that in order to be sustainable, it must also be expensive. However, at Divert, we don't believe that you should have to pay thousands of pounds to protect the environment. That's why we offer all of our waste services for a fixed price, with no surprise fees finding their way to your invoices. The price we provide is the price you'll pay for everything – including labour and transportation. Even better, we'll provide you with the appropriate bins and storage containers free of charge, making waste management a breeze.
Clinical waste in Bristol
Healthcare facilities produce large volumes of clinical waste every single day. Therefore, when you consider the fact that Bristol is home to 17 hospitals, 53 GP practices and 103 care homes, in addition to numerous pharmacies and laboratories, it's clear that large volumes of clinical waste products are produced within the city. As Clinical waste often contains potentially dangerous chemicals or substances, it must be disposed of with great care. At Divert, we have all of the necessary tools at our disposal to safely and securely dispose of all clinical waste produced at your facility.
We'll also ensure that we follow all government guidelines and regulations regarding clinical waste disposal by providing you with the appropriate paperwork for your records. As mentioned previously, we'll also provide you with FREE access to the correct bins, such as sharps bins and clinical waste bags. Our services give you the peace of mind you've been looking for – as you know that your waste is disposed of legally, safely and sustainably.
General waste collection Bristol
General waste refers to any products that cannot easily be recycled alongside the rest of your waste – and as such, need to be disposed of carefully. At Bristol, we can help you ensure that your general waste is disposed of in a sustainable manner, meaning you no longer need to fork out for expensive landfill fees.
No Hidden charges
With divert you wont find silly things added to your invoice
DMR – dry mixed recycling in Bristol
Bristol should be incredibly proud that they rank so highly when it comes to recycling and eco-friendly business practices – but there is always room to improve. One way in which you can help ensure that you recycle as much of your waste as possible is by setting up a Dry Mixed Recycling Bin. One of the major benefits of using these bins is that they do not require you to separate waste products, which can save you time, effort and space – perfect for smaller businesses with limited waste storage options.
Cardboard waste disposal in Bristol
Cardboard is one of the most-used products in the world, particularly in regards to packaging. However, due to the fact that it is made of paper, it can be recycled relatively easily – which means that we do not have to monitor our usage of this product too strictly. Bristol sends around 9,000 tonnes of cardboard waste to recycling facilities each year – but we hope to help these figures grow through our cardboard waste collection services. For example, with bases across the UK, we can quickly set up our free bins on your premises so that employees can recycle onsite without any hassle or stress. We'll then ensure that once collected, your waste is taken to local recycling or reuse facilities.
Business waste in Bristol
According to a recent report, there are approximately 50,000 businesses currently operating within Bristol across multiple industries. With business waste accounting for 25% of all waste produced within the UK, all companies within Bristol must have a strong waste management plan in place to minimise their environmental impact. At Divert, we can step in to help you with all areas of waste management and disposal – whether you'd like us to collect old electrical items or shredded paper. Furthermore, as we're aware that running a business can be expensive, we'll make sure we do it at a fair and competitive price.
Save £££££
No Mess, No Stress, Pay Less
WEEE waste collection in Bristol
We live in a society that's dependent upon technology (How many times have you checked your phone in the past hour?), which means that we also produce large volumes of electrical waste every single day. Despite this, it's estimated that less than 20% of WEEE products are recycled globally and are instead sent to overcrowded landfill sites. Here, they could take upwards of one million years to decompose. However, if sent to the appropriate treatment facility, these products are disassembled, separated and recycled. As such, if you are producing any volume of WEEE waste at your facility, get in touch today to find out how we can help. At Divert, no project is too big or too small – so whether you're throwing away old work phones in favour of the latest model or replacing your specialist equipment, we can help.
Waste disposal in Bristol
On average, Bristol produces around 140,000 tonnes of waste each year. However, its high recycling rate means that approximately 53,000 tonnes are recycled – which means it's a leading example for other busy cities. At Divert, we can ensure that your business helps Bristol retain its status as the UK's best city for recycling by ensuring that all of your waste is recycled or reused. We'll also help you put together a waste management plan, which will not only help you save the planet but money too!
Glass collection in Bristol
A recent study has found that 10,000 tonnes of glass jars and bottles are thrown away in Bristol each year. Since these figures do not account for other glass products, it's clear that the City uses (and disposes of) a great deal of glass annually. As such, businesses within Bristol must make the most of available glass collection services. This is particularly important for those who work in the hospitality industry, where glasses are used in large volumes. At Divert, we can collect glass from your premises on a daily, weekly or monthly basis, depending on how quickly it accumulates. Following this, we'll also ensure that your glass bottles never find their way to landfill sites and are instead taken to the appropriate recycling facilities where they can be repurposed and back on supermarket shelves again within sixty days.
Very quick
Caroline
Dog Groomers
Very quick to get bins set up for my dog grooming business, Paddy advised the best size bin and was a quick turnaround!
Get a quick quote
Get a quick FREE quote for your waste
Quick quote within 1 hr
All types of waste
Claim your free bins
Nationwide coverage