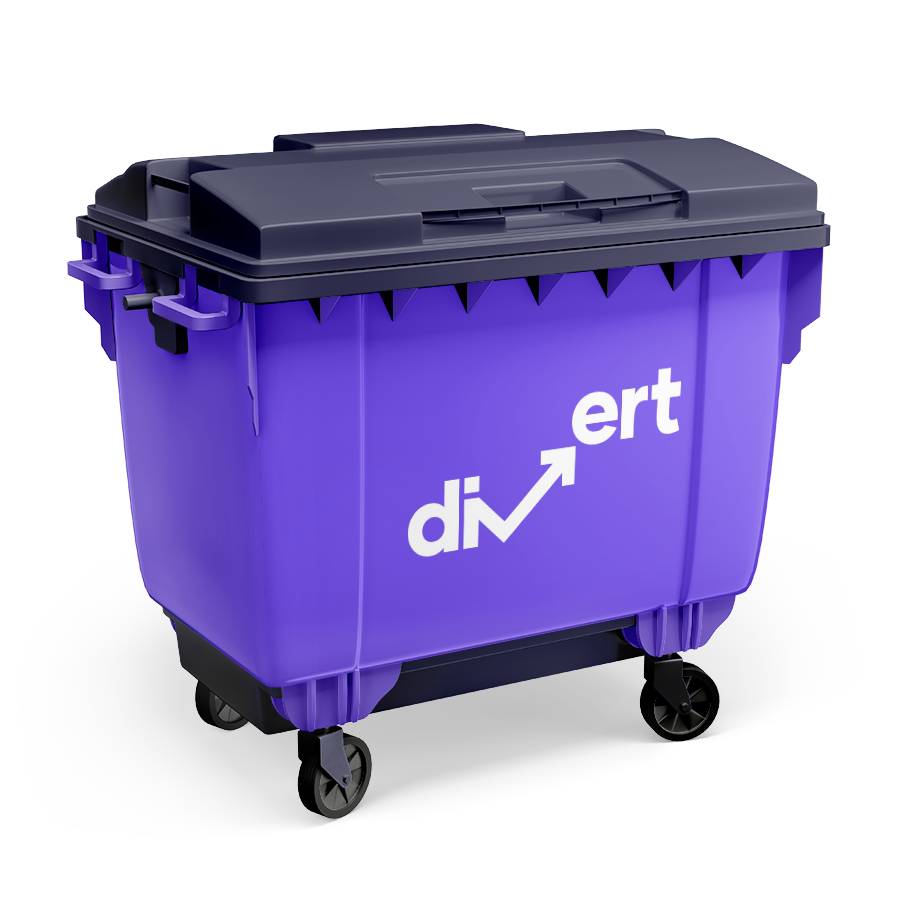 Whatever your business type or industry, the right Plymouth waste management service can make all the difference to the success of your business. This busy port city has a population of around 240,000 and a current recycling rate of c. 32% according to local authority figures.
Plymouth is a leading area for offshore renewable energy, with the University of Plymouth leading academic research and qualifications. Its businesses are working hard to boost their sustainable credentials to win customers and contracts – and choosing suppliers with clear environmental policies.
Divert offers waste management Plymouth wide for every kind of business, industry and trade. We are flexible, affordable and committed to recycling as much waste as possible for our business customers. Our high-quality Plymouth waste collection services give our business customers total peace of mind, and supports their own sustainability objectives.
Get in touch to obtain your free quote or to find out about our professional services for waste collection Plymouth businesses trust.
Waste management Plymouth

Quick Quote
Get a quick FREE quote for your waste
Quick quote within 1 hr
All types of waste
Claim your free bins
Nationwide coverage
Waste collection in Plymouth
Divert's Plymouth commercial waste collection service is designed to be affordable, flexible and entirely customised around your needs. We use expert professionals, cutting-edge technologies and strong, robust bins for a highly satisfactory experience.
For commercial waste collection Plymouth services also support the environment. We know how important sustainability and environmentalism is to businesses, which is why we use sorting, identification and waste management processes to ensure as little waste as possible goes into landfill.
Plymouth Clinical waste management
Clinical waste is a complex area for waste disposal. Non-clinical and clinical waste – including medicines, syringes and latex products – need to be separated before any items can be identified for recycling, and the rest safely disposed of. Medical waste can be toxic, so Divert offers clinical waste disposal Plymouth wide, to Derriford Hospital, Royal Eye Infirmary, Child Development Centre in Plymouth and other locations under the University Hospitals Plymouth NHS Trust.
Our medical waste services in Hull are fully compliant with HSE regulations (including the safe disposal of sharps) and our team are highly trained to deliver this complex service, covering infectious clinical waste, offensive clinical waste, clinical sharp and anatomical waste, plus Cytotoxic / Cytostatic waste or expired medicines and their packaging.
Oil waste management for Plymouth
Choose our Plymouth oil waste collection service if your business works with petroleum, industrial oils, seed oils, kerosene and engine oils. Our waste removal Plymouth service ensures your business disposes of oil in the safest, cleanest way with our professional operatives handling collection and disposal to the highest standards.
We can help your business by offering a waste management plan that focuses on reducing, reusing and recycling, providing all appropriate bins and collection devices, offering waste collection services in Plymouth to suit your business needs and schedule, and disposing of waste in the most environmentally-friendly way possible.
No Hidden charges
With divert you wont find silly things added to your invoice
Confidential waste services across Plymouth
If your business needs confidential waste collection in Plymouththen we can help. Our 'Zero to Landfill' policy means that no paper waste goes to landfill, but we process it expertly to ensure no confidential data is leaked.
Protect your business and your customers, avoid fines and maintain total peace of mind by trusting us to deliver your Plymouth confidential waste disposal service.
Liquid waste collection across Plymouth
Our Plymouth liquid waste removal services allow you to protect the environment and fully comply with complex legislation around liquid waste management. Liquid waste is hard to store and dispose of, but our teams have the skills, kit, facilities and processes to do so safely and effectively on your behalf.
Liquid waste can include sludge, effluent, pulp, flood water, chemical waste and drain clearance. At Divert, we can help your business with liquid waste removal services, a waste management plan, free bins and eco-friendly waste services.
Save £££££
No Mess, No Stress, Pay Less
Garden waste collection in Plymouth
Many businesses have outdoor areas of some kind, including residential homes, hotels, restaurants and pubs. Others operate landscaping and garden businesses with ongoing waste management needs that they prefer to outsource for speed and efficiency.
Garden waste can be recycled for biomass but it's bulky. We offer flexible and affordable garden waste collection services in Plymouth. Our 'zero landfill' policy means that we divert all recyclable garden waste into schemes such as biomass incineration and composting for maximum green benefits.
Very quick
Caroline
Dog Groomers
Very quick to get bins set up for my dog grooming business, Paddy advised the best size bin and was a quick turnaround!
Get a quick quote
Get a quick FREE quote for your waste
Quick quote within 1 hr
All types of waste
Claim your free bins
Nationwide coverage