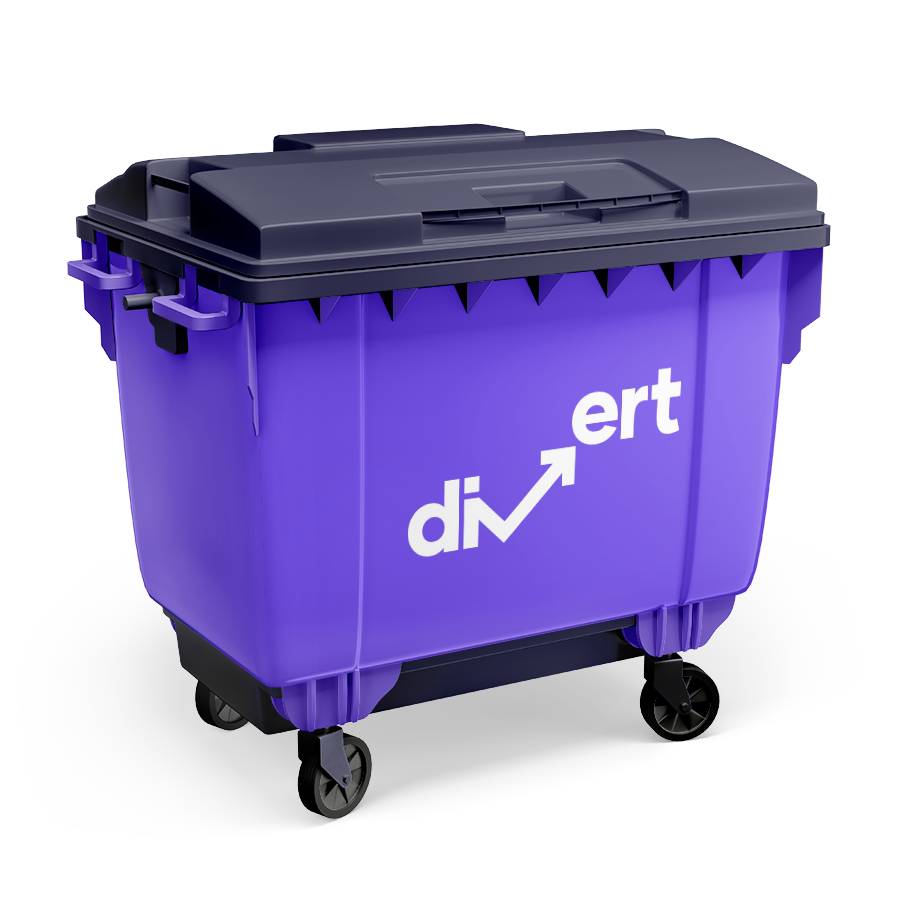 Glasgow is Scotland's largest city, known for stunning architecture, friendly residents and a lively music scene. However, with a long and well-documented history as an industrial hub, a large volume of waste is produced within the city each year, namely by the thousands of businesses that operate within its limits. Despite this, Glasgow does not excel when it comes to recycling. In fact, according to a recent report from the Clean Up Glasgow initiative, Glasgow City Council has the lowest recycling rate of all councils in Scotland – generally recycling around a quarter of its waste.
At Divert, we hope to help raise Glasgow's recycling rate by helping our customers divert their waste from landfills and towards local recycling centres and re-use facilities. Together, we'll help make Glasgow greener!
Waste Management Glasgow

Quick Quote
Get a quick FREE quote for your waste
Quick quote within 1 hr
All types of waste
Claim your free bins
Nationwide coverage
Glasgow waste Collection
As a business owner, you likely have 100 things to do on any given day – whether you're hosting a meeting or designing a new product. As a result, you don't always have the time you need on hand to put together a strong (and sustainable) waste management strategy – but that's where we come in. Our Divert team comprises a group of highly-qualified, CRB-checked individuals with a passion for protecting the environment. Together, we can put plans in place that ensure your waste is disposed of responsibly, helping your business become more sustainable. We'll provide all of our services to you for a fixed price, meaning you won't' have to worry about unexpected bills when doing your part to protect the planet
Clinical waste in Glasgow
Glasgow is home to over 300 GP surgeries, 35 hospitals and 151 care homes, in addition to other healthcare facilities. As a result, it produces large volumes of clinical waste every single day, which must be disposed of responsibly since it can present a threat not only to the planet but to anybody who comes into contact with them. At Divert, we have the insight, tools and equipment on hand needed to store and dispose of clinical waste on your behalf.
Not only will we provide you with free access to specialist bins and containers, but we'll also ensure that you have all of the necessary paperwork on hand. This way, you can comply with all government waste regulation
Glass collections Glasgow
Glass is a raw material, typically made from soda, sand and limestone – not only does this make for a highly versatile product, but it's also one that can be recycled indefinitely. This is perhaps why glass is currently Scotland's second-most recycled product, after paper & card. In fact, Scotland recycles approximately 100,000 tonnes of glass products each year. Therefore, if your business produces large volumes of glass waste, it's essential that you play your part in keeping these recycling rates as high as possible. One way you can achieve this goal is by making the most of our cost-effective glass collection services.
No Hidden charges
With divert you wont find silly things added to your invoice
Waste disposal in Glasgow
At Divert, we want you to know that you can trust our purple vans. Our passion for sustainability means that we're able to support you through all areas of waste disposal on behalf of your Glasgow-based business, whether you want to arrange for the weekly collection of your recyclables or require the one-off assistance of a man and van. Regardless of which services you require, we'll ensure that none of your waste is sent to landfill sites. Instead, well utilise local rescue schemes or recycling centres – giving your waste a second lease for life.
WEEE waste collection Glasgow
The UK is the second-largest producer of WEEE (Waste Electrical and Electronic Equipment) Waste globally. While WEEE waste can be produced at home, it is typically produced in larger volumes by businesses. For example, this can include phones, computers and specialist technical equipment like CCTV cameras. As electrical products contain traces of heavy metals and toxic substances, they must be disposed of carefully instead of being sent to landfills. When working alongside Divert, you can rest easy knowing that your WEEE products will be taken to a specialist recycling facility.
Business waste Glasgow
According to a recent study, Glasgow is home to more than 48,000 businesses – with the number growing every single day. The number of companies based within Glasgow accounts for 28% of Scottish companies – which means it's also fair to assume that a great deal of business waste is produced within the city.
At Divert, we're always on hand to support businesses with all areas of waste disposal – whether you require specialist guidance or simply need someone to take your food waste off your hands. Not only will we help you put together an effective waste management plan, but we'll also ensure that we keep our prices low. We'll collect all of your business waste for a fixed price – without any additional charges for transport, labour or even bins and storage units.
Save £££££
No Mess, No Stress, Pay Less
Cardboard waste collection Glasgow
As mentioned previously, paper and card products are the most commonly recycled products in Scotland. This is because they are relatively easy to recycle, and every home and business now have access to recycling bins that they can use at their leisure. If your business is producing large volumes of cardboard waste, then Divert can help. This is a great way to ensure that your business contributes positively towards Glasgow's growing efforts to become more sustainable. Furthemore, did you know that clients tend to favour companies with strong, eco-friendly policies in place? This means that recycling more often could help you to earn even more money!
DMR – Dry Mixed Recycling in Glasgow
According to a recent report from Glasgow Live, over 167,000 tonnes of recyclable waste was produced in Glasgow in 2018. Despite this, only 60,000 tonnes of waste was recycled, which accounts for a staggeringly low recycling rate. This is far below Scotland's best-performing city, Inverclyde, which has a recycling rate of 56.8%. At Divert, we hope to help change these figures for the better by providing you with as many ways as possible to recycle. For example, we can provide you with a Dry Mixed Recycling bin/container, which can store paper, card and metal products. This means that you no longer have to spend any time sorting through your waste – as we'll do this for you.
General waste collections in Glasgow
Some waste is a little more difficult to recycle than others. This includes products such as plastic wrap, which often fall under the umbrella of 'general waste'. If your business produces general waste, it's important that you find a way to safely dispose of it without causing any damage to the local environment. For example, while sending this waste towards landfill sites is easy, doing so could hurt the planet. A 2019 Glasgow Council study found that the '255,000 tonnes of rubbish thrown away by residents in 2019 equated to over 774,000 tonnes of carbon dioxide emissions' (Glasgow City Council). At Divert, we can take your general waste to specialist recycling facilities or re-use centres, making your waste disposal practices as stress-free as possible.
Get in touch or request a free quote today!
Very quick
Caroline
Dog Groomers
Very quick to get bins set up for my dog grooming business, Paddy advised the best size bin and was a quick turnaround!
Get a quick quote
Get a quick FREE quote for your waste
Quick quote within 1 hr
All types of waste
Claim your free bins
Nationwide coverage