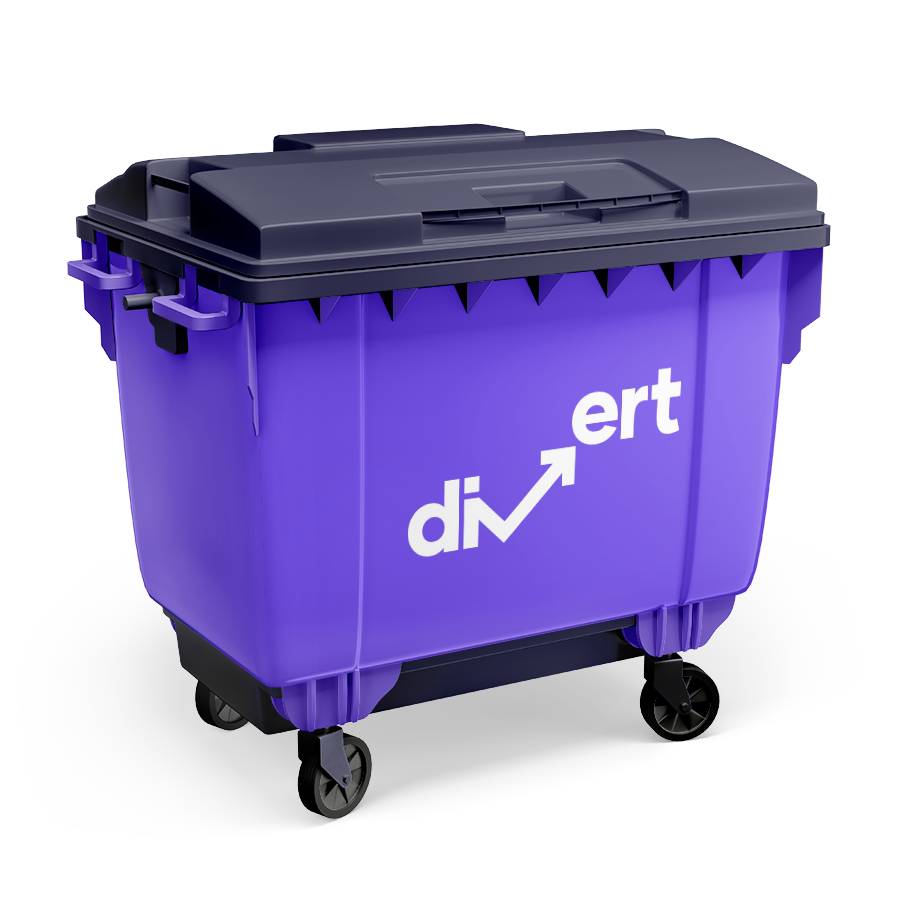 Together, we'll divert all manner of London's waste away from landfills with a clear focus on sustainability.
Waste Collection London

Quick Quote
Get a quick FREE quote for your waste
Quick quote within 1 hr
All types of waste
Claim your free bins
Nationwide coverage
Waste management London
London is the UK's biggest city, home to thousands of businesses and residential properties – which means that lots of waste is produced in this area. Despite this, recent studies have found that only 34% of the waste produced in London is actually recycled or disposed of appropriately, with the rest being sent to landfills. At Divert, our mission is to divert all waste away from overcrowded landfills – and that's why we're now offering our services to businesses and organisations across London.
Clinical waste in London
London is home to over 300 hospitals, 1,500 doctors surgeries and hundreds of healthcare centres and laboratories. As a result, large volumes of clinical waste products (sometimes referred to as healthcare waste) are produced here each day. At Divert, we have all of the tools at hand to dispose of this waste safely and per all government regulations.
We can provide you with all of the necessary paperwork for your records while ensuring the daily running of your business does not leave a dangerous impact on the planet. As mentioned previously, we'll also give you access to the correct storage bins, which will make storing clinical waste on your property as stress-free as possible. In short, we'll make all areas of waste management as easy as possible for you so that you can focus on what you do best, running your business.
Glass collection in London
The majority of glass products used and produced by businesses within London – from jars to glasses – are recyclable. Therefore, by using our glass collection services, you'll be taking care of the environment by sending your glass waste to the appropriate local recycling and treatment facilites, where they can be repurposed and used time and time again. As glass waste can accumulate quickly, we can arrange for regular collections at a fair price, giving you great peace of mind.
No Hidden charges
With divert you wont find silly things added to your invoice
Waste disposal in London
At Divert, our years of industry experience and passion for sustainability means that we can deal with all areas of waste management on behalf of your London-based business. This is excellent news when you consider that London is responsible for producing around 18m tonnes of waste annually. This means you no longer have to spend hours figuring out where you can dispose of your business waste – as we'll do it for you. Even better, we'll ensure that your waste is never sent to landfills, and instead, we'll divert it towards recycling plants or local reuse centres.
WEEE waste in London
Our growing dependence on electronics (you're probably reading this off your phone as we speak) means that we're also producing large volumes of WEEE (Waste Electrical and Electronic Equipment) waste every single day. This includes products such as laptops, computers and even specialist electronics. Even though these products contain various recyclable materials, they are often sent to landfill sites.
However, with Divert, you can kiss goodbye to landfill fees as our signature purple vans are on hand to collect any and all electrical products from your site and take them to a recycling centre.
Business waste in London
According to a 2020 report from Statista, there were over 1.133 million businesses located in London. From offices to factories, the city is full of entrepreneurs making their business dreams come true. However, this also means that large volumes of business waste are produced in London every single hour.
At Divert, we're on hand to help by providing you with a cost-effective solution to your waste disposal needs. We know that running a business can be expensive, so we'll never overcharge for our services. Even better, we'll collect all of your business waste for a fixed price (including transport and labour) while also providing you with free bins.
Save £££££
No Mess, No Stress, Pay Less
Cardboard waste in London
Cardboard is one of the most commonly used products globally, particularly when it comes to packaging. In fact, we use around 12.5 million tonnes of it each year in the UK, with a lot of this waste being sent to landfills. However, did you know that cardboard can typically be recycled up to seven times (with the figure steadily growing)?
At Divert, we know that we all have a role to play when it comes to recycling – and we're happy to help you do your part by collecting your cardboard products and taking them directly to recycling centres.
DMR – dry mixed recycling collection London
A recent study revealed that London is currently the worst region in the UK for recycling – recycling only around 34.4.% of waste. This is far below the national average of 43.3%. At Divert, we aim to help change this by making it as easy as possible for you to recycle. We can do this by providing you with a Dry Mixed Recycling bin, where you can store products such as paper, card, and metal before disposal. Once your bins are full (and at a time that's convenient for you), we'll collect them, separate the waste and take it all to a treatment facility.
General waste collections in London
London produces approximately 18 million tonnes of waste annually, with most of this being created by businesses. While this does include specialist waste (such as clinical waste), most of this waste is actually classified as 'general waste'. That is products that typically cannot easily be recycled. At Divert, we can make disposing of your general waste as stress-free as possible – get in touch to find out more!
Very quick
Caroline
Dog Groomers
Very quick to get bins set up for my dog grooming business, Paddy advised the best size bin and was a quick turnaround!
Get a quick quote
Get a quick FREE quote for your waste
Quick quote within 1 hr
All types of waste
Claim your free bins
Nationwide coverage