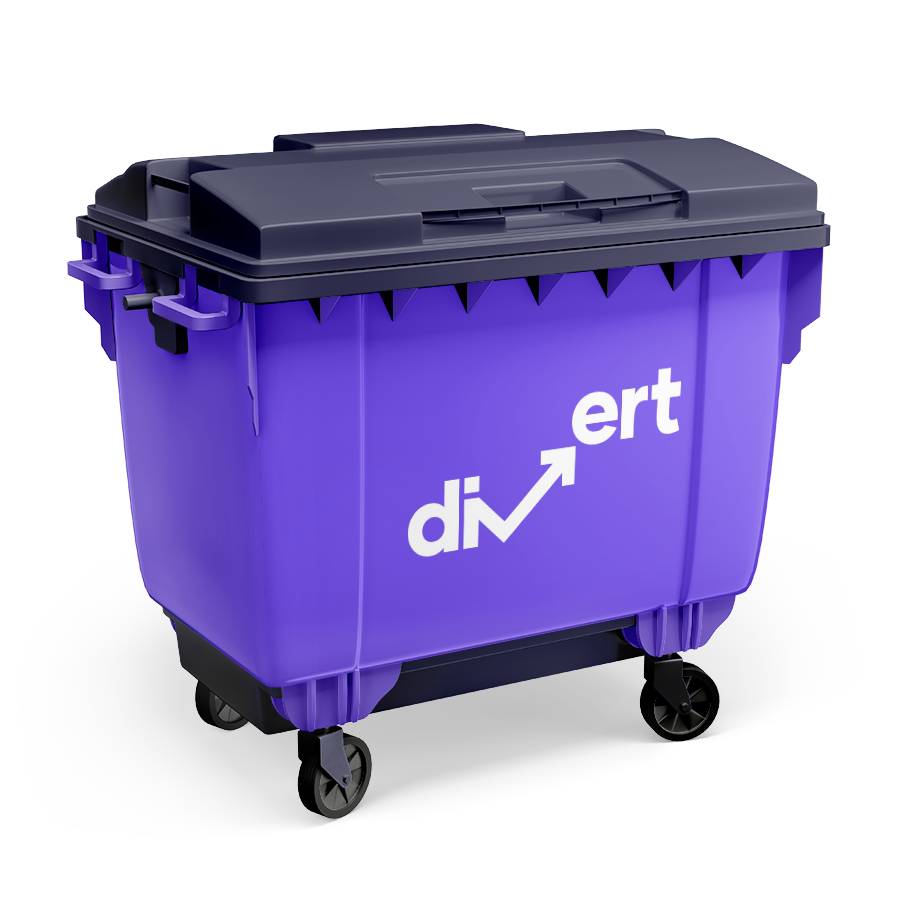 Birmingham is one of the biggest cities in the UK (Currently ranking #3 by population), which means that it's also one of the areas where the most waste is produced. Despite this, it's estimated that around 67% of this waste is sent directly to landfill sites, many of which are already overflowing with decades of waste.
At Divert, our main aim is to reduce (and one day eliminate) the pressure faced by UK landfills by diverting the waste into alternative disposal schemes. For example, instead of sending your waste to a local landfill site, we'll ensure it ends up at a recycling facility instead.
Waste Collection Birmingham

Quick Quote
Get a quick FREE quote for your waste
Quick quote within 1 hr
All types of waste
Claim your free bins
Nationwide coverage
Waste management Birmingham
Unlike with other waste disposal companies, we won't overcharge you for deciding to be more sustainable in the running of your business. In fact, when working alongside Divert, you'll only have to pay for your waste to be collected from your site – we'll provide you with a free waste management plan AND all of the bins you need to store waste on-site. Not only will this help you to play an important role in protecting the planet for future generations, but our fixed prices also ensure you get excellent value for money.
Glass collections in Birmingham
Glass is a product that we can recycle endlessly, and this means that it can be repurposed and reused time and time again without dropping in quality. Despite this, businesses across Birmingham (and beyond) throw away glass products alongside the rest of their waste – without taking the effort to ensure it ends up at a recycling plant. The figures are particularly shocking within the hospitality and service industry – with around 8 billion glasses bottles being thrown away in the UK in 2019.
At Divert, we're happy to take any glass waste off your hands so that it can be repurposed and used for centuries to come. We'll even provide you with strong, durable containers that are unlikely to get pierced so that you have a safe space to store these products before collection. Furthemore, if you produce a lot of glass waste, we can arrange for it to be collected regularly – which stops waste from building up outside your business.
Clinical waste in Birmingham
Currently, there are 46 NHS organisations based in Birmingham, with around 19 of these being large hospital facilities. An industrial hub, Birmingham is also home to hundreds of laboratories, which produce large volumes of clinical waste every day. If your Birmingham-based business falls into any of the above categories, you need to start thinking seriously about how you dispose of this waste. Not only must you follow all government regulations, but you must also ensure that you dispose of it sustainably. Thankfully, we're on hand to help!
Not only can we help you safely dispose of your clinical waste, but we'll also provide you with free bins and all of the necessary paperwork you need to keep your records in order and comply with all government guidelines.
No Hidden charges
With divert you wont find silly things added to your invoice
Waste disposal in Birmingham
At Divert, our passion for sustainability means that we're now able to tackle all kinds of waste on behalf of your business, whether you run a restaurant or a pharmacy. Not only that, we're also able to offer you a waste collection plan that is specifically tailored to your company – based on the quantity and type of waste you are producing and the daily running of your business. For example, we can collect your waste outside of your operating hours for minimal interruptions.
Recent studies have found that Birmingham has one of the UK's worst recycling rates – as is typically within bigger cities. As a result, we'll aim to help improve these figures by ensuring that the waste we collect is taken to the appropriate recycling facilities or waste management centres. Where it cannot be recycled, we will look into local reuse schemes or other more sustainable forms of disposal.
WEEE waste in Birmingham
According to a recent report from HSE, UK households and businesses throw away at least 2 million tonnes of WEEE items each year. This can include kitchen items such as fridges and microwaves alongside other everyday items such as your mobile phone, PC or tablet. Therefore, if you run a business in Birmingham, you'll likely produce some form of WEEE waste during your daily operations. For example, if you're about to replace your company's computers with newer models – you need to find a way to dispose of the old ones safely.
This is because electrical items can cause a lot of damage to the environment if they are not disposed of properly or recycled. However, at Divert, we do the difficult work for you. We'll arrive at your business to collect all manner of electrical waste at a time that suits you. Then, instead of sending them to local landfill sites that are already overcrowded, we'll ensure they are recycled.
Business waste in Birmingham
According to a recent report from the UK government, there are currently approximately 44,000 businesses in Birmingham – with the figures rising by about 2,000 a year. As a result, Birmingham is one of the UK's biggest (and most prosperous) business hubs.
If you run a business in the Birmingham area and have started to reconsider how you handle your waste – give us a call. We specialise in the disposal of a wide variety of waste – from office materials to clinical waste.
One of the major benefits of using our services is that we offer them to you at a fixed price – no hidden fees or charges for labour and transport. In fact, we'll even provide you with the bins you need to safely store waste on your property for free.
Save £££££
No Mess, No Stress, Pay Less
Cardboard waste in Birmingham
We are estimated to use around 12.5 million tonnes of paper and cardboard each year in the UK. This is hardly surprising when you consider that you probably have a lot of paper and cardboard products lying around your house or office right now. However, while we should all take steps to minimise our usage of these products, it's also important that we dispose of them accordingly. After all, if sent to landfill sites, cardboard products can take upwards of several months to decompose.
At Divert, we can collect your cardboard waste and take it to the appropriate recycling facility, where it can then be repurposed up to seven times.
DMR – dry mixed recycling in Birmingham
According to a recent study, as little as 22.9% of the waste produced in Birmingham is recycled. This is particularly startling when you consider that roughly 80% of the products we use in our daily lives can be recycled – some of them infinitely. At Divert, we hope to make the recycling process easier for our customers by providing them with Dry Mixed Recycling Bins, suitable for all manner of recyclable waste. This includes products such as card, paper and plastic – meaning you no longer have to waste time separating your waste products.
We'll then ensure they are taken to a recycling facility where your DMR is separated, recycled and repurposed.
General waste collection in Birmingham
There are various waste products that you will produce during the running of your business that are not easily recyclable. For example, this could include products such as plastic wrapping, plastic bags or even polystyrene containers. At Divert, we can also help you get a better handle on your general waste. For example, not only can we help you dispose of it correctly, but we can also advise you on strategies you can use to reduce the amount of waste you produce.
Very quick
Caroline
Dog Groomers
Very quick to get bins set up for my dog grooming business, Paddy advised the best size bin and was a quick turnaround!
Get a quick quote
Get a quick FREE quote for your waste
Quick quote within 1 hr
All types of waste
Claim your free bins
Nationwide coverage