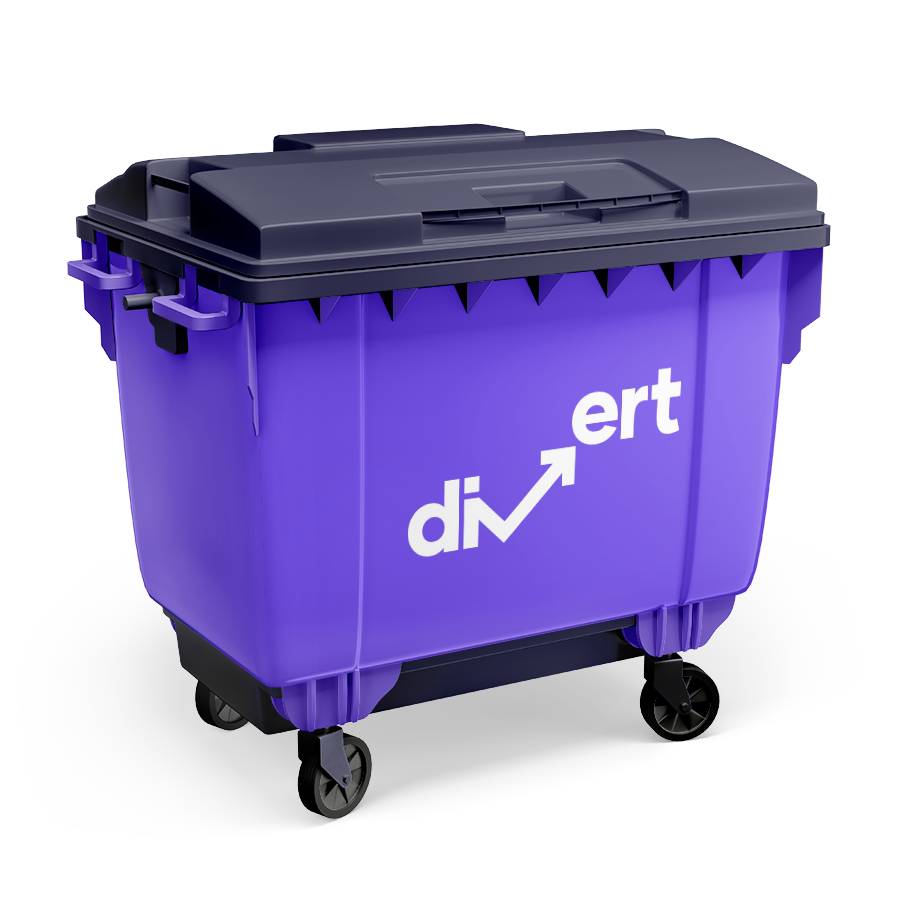 Here at Divert, we are qualified to collect and dispose of your clinical waste in Bournemouth safely and efficiently. Clinical waste is mainly produced in healthcare settings and could be harmful or hazardous, therefore it is essential that it is disposed of safely. Our clinical waste collection service in Bournemouth is a flexible and professional solution to take care of the waste needs of your business.
Bournemouth is a thriving coastal town, popular with residents and tourists alike. There are three hospitals, 64 care homes, dozens of hairdressers, dentists and many other businesses that regularly require clinical waste collection.
We understand that the strict regulations regarding the separation, storage and disposal of clinical waste can be confusing, and we are happy to provide any support and advice you need. We supply the correct bin sizes, bags and colours required to meet your business's needs at an affordable price.
For a free quote or more information and advice about our clinical waste management services in Bournemouth please call 01904 295985
Clinical waste disposal Bournemouth

Quick Quote
Get a quick FREE quote for your waste
Quick quote within 1 hr
All types of waste
Claim your free bins
Nationwide coverage
Clinical waste collection in Bournemouth
At Divert we are flexible with our collection schedule and can create one to suit you, as we understand businesses have different opening hours and waste collection needs.
We provide the right size, types and coloured bins for the specific clinical waste you need to dispose of free of charge, with only the collection fee to pay. We are the trusted and legally compliant company for clinical waste disposal Bournemouth businesses rely on. Let us save you time and money so your customers and business can be your top priority.
Dental waste in Bournemouth
Dental practices in Bournemouth produce large amounts of waste every working day. One type of waste often produced is amalgam, which is classified as hazardous. Our bins are designed to offer a safe and convenient way to dispose of dental waste, including old and surplus amalgam, fillings in teeth, and packaging with remaining residues.
Our dental waste bins are:
• Small in size and designed especially for use in dental practices
• Great for segregating waste to avoid cross-contamination
• A safe and legal way to dispose of dental waste
No Hidden charges
With divert you wont find silly things added to your invoice
Yellow-lidded sharps bin in Bournemouth
We supply different sizes of sharps bins, which are colour coded for ease of use when separating different types of waste. Yellow sharps bins are commonly used in hospitals and doctor's surgeries. They are designed for the disposal of hazardous sharps and medicinal products such as used syringes, insulin pump tubing and cannulas.
Our sharps bins are:
• Made from strong materials to reduce chance of damage
• Sealable and lockable for your safety
• Available in different sizes or with different lid colours to suit your needs
Infectious clinical waste in Bournemouth
In healthcare settings there is often waste that needs to be properly disposed of to avoid risk to public health or the environment. Companies that produce infectious waste have a duty of care to ensure it is handled safely. It is advised that any infectious waste such as contaminated swabs, gloves, paper towels and dressings are placed in vivid orange bags.
Our infectious waste bags are:
• Made from good quality materials so they are unlikely to split or rip
• A bright orange colour to help distinguish them from other waste bags
• The best solution for infectious waste
Save £££££
No Mess, No Stress, Pay Less
Non-infectious waste bags in Bournemouth
Many businesses need a safe way to dispose of non-infectious clinical waste that still requires careful handling. We recommend our yellow and black bags for this. They are perfect for things that whilst not hazardous are still unpleasant. They are often used in hospital and care home settings to dispose of used PPE, plasters, bandages and animal bedding.
Our non-infectious waste bags are:
• Made from strong materials to minimise risk of damage or tearing
• Easily identifiable, known as tiger bags with a black and yellow stripe
• Can be used for a wide variety of noninfectious clinical waste
Cytotoxic waste and cytostatic waste in Bournemouth
Produced in many different healthcare industries, such as laboratories, pharmacies and veterinary practices, this type of waste may be hazardous and should be handled with the utmost care. Items such as wipes, aprons, gloves and dressings that have been contaminated by medical drugs need to go in purple waste bags.
The cytotoxic and cytostatic bags we provide are:
• Made from strong, durable materials to limit any chance of splitting
• A bright purple colour to warn the carrier of potentially hazardous waste
• Suitable for infectious and noninfectious waste
Very quick
Caroline
Dog Groomers
Very quick to get bins set up for my dog grooming business, Paddy advised the best size bin and was a quick turnaround!
Get a quick quote
Get a quick FREE quote for your waste
Quick quote within 1 hr
All types of waste
Claim your free bins
Nationwide coverage